Buntbox gift box configurator
Buntbox gift box made to measure from 1 piece order online.
Custom-made
Whether as packaging for your unique product or as a box for small giveaways - our custom folding boxes are suitable for numerous uses. At the same time, our foldable packaging adapts 100 percent to your product. So you have the opportunity to determine the size, shape and numerous other features completely yourself. Design your own folding box and convince your customers at the point of sale with an extraordinary product presentation!
Are you looking for a specific size and shape? Then simply contact us directly via the customisation form. You will receive an offer shortly
You can also use the configurator to order your customised Buntbox gift box directly online, starting at 1 piece. Simply select the colour, enter the dimensions and, if necessary, place a design on the box: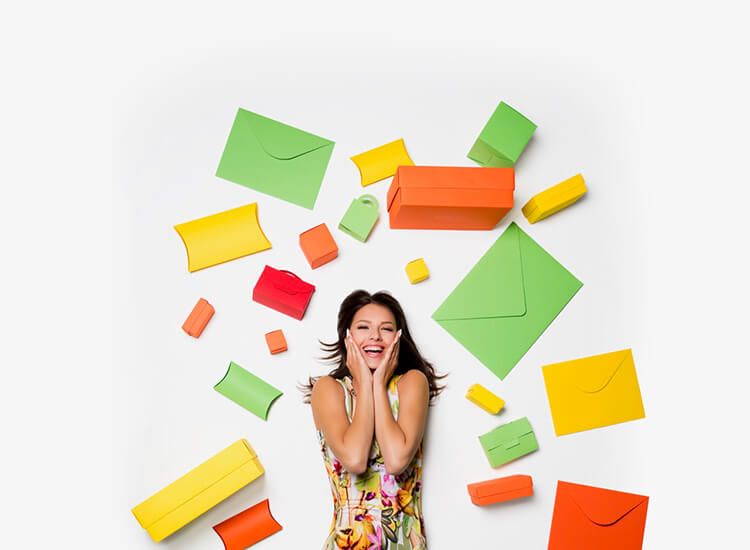 Popular shapes
A selection of popular shapes can be found here:
Colours
Here you will find an overview of the Buntbox colours for your customised shape:
Possible uses for customised folding boxes
Customised boxes can be used as product packaging in many different industries and sectors. For example, they are used as packaging in the pharmaceutical industry or for cosmetic products. In addition, custom-made boxes can be used excellently as gift packaging or as mailing packaging.
In addition to foldable boxes, we also offer custom-made telescope boxes. Due to their robustness, these made-to-measure boxes are very suitable for high-value or fragile products.
Numerous customisation options for made-to-measure boxes
Because our folding boxes are configurable in length, width and height and can be printed individually, they are universally applicable.
For better product presentation, you can equip your customised folding or telescope boxes with a viewing window, for example. Here, too, you have a free choice: while an open viewing window gives your customer the opportunity to make haptic contact with the product, a film-backed viewing window provides special protection - for example for cosmetic products such as soaps.
In addition, you can have your customised folding or telescope boxes fitted with a viewing window.
You can also enhance your packaging with a customised inlay. An inlay or pedestal ensures that the product is held securely in the box and that nothing slips during transport.
In addition, you can add a customised inlay to your packaging.
You can also choose between different types of base and lid. These serve as closures for your box and fulfil different functions. Conventional tuck-in flaps, for example, are particularly suitable for light to medium-weight products and score points for their ease of handling. They are supplied flat and therefore do not take up much space. They are also resealable.
Slide-in bottoms differ from slide-in flaps only in their slightly higher stability, which is why they are also suitable for heavy products. Automatic bottoms, on the other hand, are glued and convince with their quick erection and very high load-bearing capacity. Although they are not resealable, they are very easy to make up and fill by machine.
Free configurable custom folding boxes
Of course, you have the option of ordering your folding or telescope boxes made to measure, i.e. in dimensions of your choice. Your advantage: customised folding boxes can also be supplied in small and medium runs. In this context, we are also happy to take care of the print data creation and finishing for you - without you having to pay for the cutting dies.
Should you require assistance during the processing of your order, our competent customer service is at your disposal. In personal contact with one of our customer advisors, you will thus have the opportunity to implement your wishes on time.
We are also available at any time to answer questions regarding unusual sizes and materials as well as unusual design ideas for your customised folding and telescope boxes. Alternatively, you can configure and order your products yourself in our online shop.
Unique packaging made to measure
We attach great importance to ensuring that your premium folding box fits your product exactly. After all, the packaging serves as an important advertising medium, sets you apart from the competition and serves to convince potential customers of your product. Therefore it should protect and provide support, look good and also convince haptically.
While all our folding boxes are also available in standard sizes, you also have the option of ordering a customised size. Accordingly, you have two options for your order:
Consultation by our service-oriented staff: We advise you on the design of your boxes, colours, shapes, sizes and finishes. In doing so, we focus entirely on your wishes and ideas and create unique packaging that is ideally suited to your product and your target group. The individual consultation is particularly suitable for inexperienced customers or more complex box shapes and finishes).
Ordering in the online shop: This option makes sense for simple folding boxes and already experienced customers. In the shop, you can find customised folding boxes from a quantity of 1. If you have any questions, our friendly support team will of course be happy to help you at any time. You can obtain the design template for your custom folding box directly online.
Are you looking for a specific size and shape? Then simply contact us directly via the custom-made form. You will receive a quote shortly
Inquire about customised production

You can also use the configurator to order your customised Buntbox gift box directly online, starting at 1 piece. Simply select the colour, enter the dimensions and, if necessary, place a design on the box: