Make your gift unique with the gift box from Buntbox!
Thanks to the wide range of colours of the gift boxes we offer, you have the possibility to order a completely individual gift box according to your taste. Our box with lid is a very popular option for our customers to wrap their gifts attractively. You want it a little more individual? Of course, it is also possible to have the box printed, which makes it unique.
Beautiful gift boxes with lids
The possibility of combining your gift box with different lids means that nothing stands in the way of your imagination for any colour combination. You can choose from a wide range of colours and order your own gift boxes for each family member, for example. Our box gift box is suitable for gifts up to 34 cm long. The smallest gift box we have on offer is approx. 10 cm long, 6.5 cm wide and 4.6 cm high.
Sustainable packaging
Do you care about the environment as much as we do? Then you've come to the right place. The gift boxes offered by Buntbox are made of 100 percent paper and can therefore be easily recycled. In addition, paper is made from the renewable raw material wood, which makes our gift boxes particularly sustainable. So you can buy our paper boxes with a clear conscience without polluting the environment with plastic waste.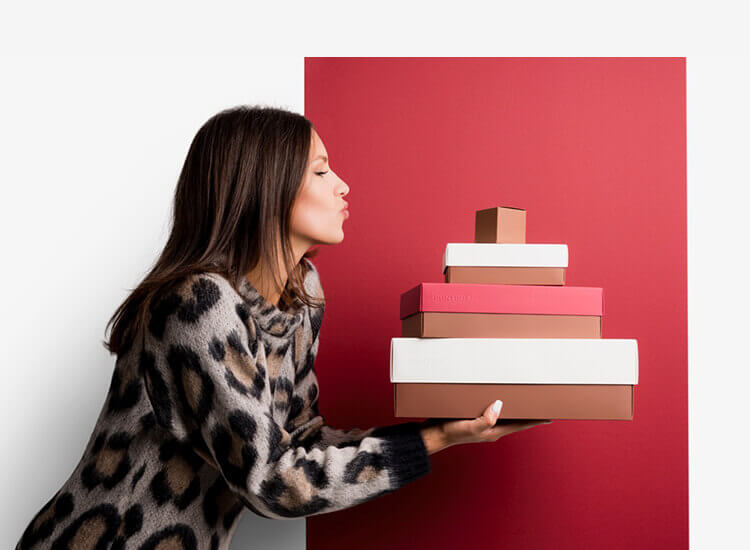 Order your gift box with just a few clicks
Ordering our unique gift box is easy. Click on the size of the gift box you want and then you can choose from the available colours to create the box of your choice. After you have chosen a colour, you can directly see how your gift box with lid will look like. When you have found your desired combination, click on order now and the box will land in your shopping cart. Here you can check if everything fits and then buy your box with lid.
But we don't only offer beautiful gift boxes, but also bags, surprise bags and much more. We are sure that everyone will find their perfect gift box here. If you need help choosing your gift box, please contact our customer service and we will be happy to help you.