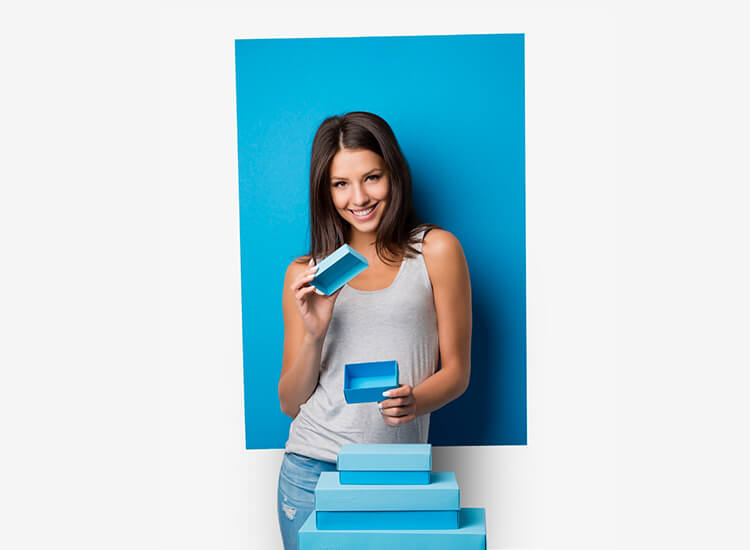 Customization of gift boxes
Our Buntbox team is also more than happy to assist you with any kind of personalizations. We will inform you about all the customization options available and offer you many ideas for your next gift box. Take a look at our range online and get inspired. Do you have any questions? Feel free to contact us, we will be happy to help you out.
Animal Collection makes children's hearts beat faster
The box is made of high-quality, robust cardboard. It also features enchanting, colourful animal motifs on the lid and a colour-coordinated body. You can choose between sweet panda, giraffe, fox, ostrich and whale, all hand-drawn with love for detail. New is the cute storage box forest animals. This fantastic folding box with animal motifs made of paper invites the kids to get creative themselves. Making animals out of cardboard, which you can then collect in the animal motif storage box, would be a suitable idea.
Make two out of one
You can use the gift box to beautifully wrap all kinds of gifts. The Buntbox provides a stylish setting for gifts, vouchers, money, jewellery, toys and many other presents. In addition, the recipient can reuse it as a storage box for all kinds of little things. Whether it is for small figurines, photos, handicraft utensils, self-painted pictures, favourite jewellery, decorative items, sweets, there are no limits to the imagination. This way, you can turn your gift into two gifts at once: a gift and a storage box.
Large selection from small to large;
Not only is the selection of beautiful animal motifs and bright colours large, but also the range of sizes. You can choose between four different sizes from S to XL. The smallest box measures 10.2 x 6.5 x 4.6 cm and the largest measures 34 x 22 x 11.5 cm. This means that many different gifts can be packed in the boxes, from small to large.
This makes your gift unique
You can make your gift unique in the Buntbox online shop by personalising it individually. A loving dedication such as "Happy birthday, my darling", "in memory of your christening" or the name of the recipient under the animal motif make the gift something very special.
The gift becomes even more personal if instead of the animal motifs, a picture of your own is applied to the paper of the cover. According to your ideas, we will turn the storage box with animal motifs into a unique item that is guaranteed to be one-of-a-kind. Of course, you can also get the gift box completely unprinted, just with a coloured body, to give your box a very individual touch. Whether it's with craft beads, motifs you cut out yourself or whether you want to make your own animals out of cardboard and stick them onto the folding box.
For the sake of the environment
In addition, with the sustainable animal motif storage box, you're protecting the environment because you're saving a lot of wrapping paper that is disposed of after unwrapping. Furthermore, the box is made of 100 percent recycled waste paper and was manufactured in Germany in a resource-saving way. What could be better than giving sustainability in style?
Choose your favourite box now
Turn your gift into an extraordinary present or create your own special, beautiful storage box. Kids are sure to be fascinated by the Forest Animals storage box. Find your favourite box right away in the Buntbox online shop. There you're sure to find the right box for every occasion and every taste.