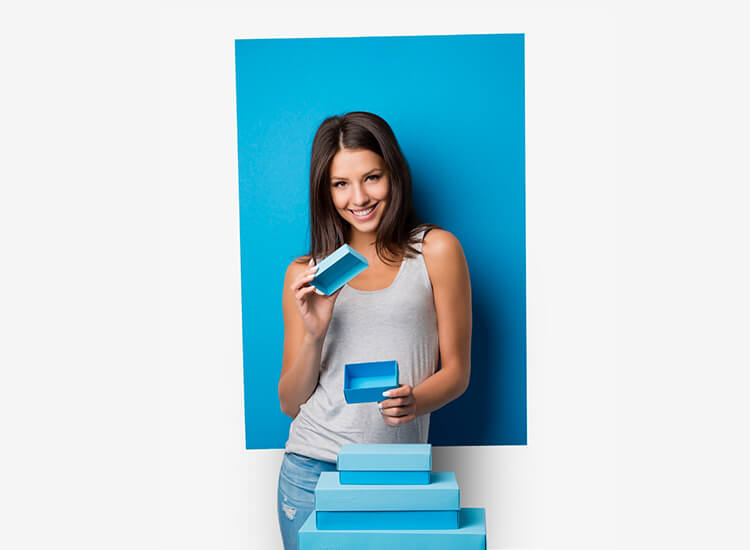 Customization of gift boxes
Our Buntbox team is also more than happy to assist you with any kind of personalizations. We will inform you about all the customization options available and offer you many ideas for your next gift box. Take a look at our range online and get inspired. Do you have any questions? Feel free to contact us, we will be happy to help you out.
BUNTBOX Fine Paper collection: because exclusive gifts need the right frame
The attractive BUNTBOX Fine Paper collection offers you ästhetic gift boxes made of sturdy cardboard (paper weight 350 g/m²) in many different sizes. Whether for official celebrations or family gatherings, for parties, anniversaries or any other occasion, a gift that comes in a stylish BuntBOX box makes an impression and underlines the value of the contents. So it's no wonder that Fine Paper motif boxes have long been decorative home accessories that people like to display. They always cut a fine figure in the bathroom, hallway, study or children's room. The colour, size and design of our boxes are variable, but all boxes have in common that they are sustainably produced in Germany. You can hide useful utensils in them, which are now always at hand, but not visible to everyone. Our Fine Paper Edition is already pre-made with different sayings, for example "Thank you", "Merry Christmas" or "Good Luck". You can also personalise the inscription on the lid. There are hardly any limits to your imagination, only the format of the gift box you choose.
There is more than one occasion for exclusive Fine Paper motif boxes
Boxes from BUNTBOX are as varied and creative as life itself. They are the best choice when you want to give something unusual and attractive, because they are a gift in themselves.
Fine Art gift boxes from BuntBOX are suitable for packaging high-quality gifts and represent a value in themselves. They are sturdy boxes with lids in which you can give books, colourful promotional items, clothing, home accessories or sporting goods and which you can customise if you wish. Jewellery and drugstore items are also in good hands here. It doesn't matter if it's a small gift or an expensive present, Fine Art boxes from BUNTBOX make every kind of gift more beautiful and bring joy even before unwrapping.
Don't give a gift in a hurry
It's the same old story: Christmas was just around the corner and now the most important holiday of the year is just around the corner! You have already bought a nice present, but you don't want to just hand it over and certainly not wrap it in profane wrapping paper. A Fine Art gift box from BUNTBOX is just the right thing for a Christmas gift that is out of the ordinary and shows the recipient how important they are to you. BuntBOX gift boxes are particularly suitable for cosmetics, lingerie, textiles, toys, leather goods and jewellery. But it doesn't really matter what you put in it, because the person you're giving it to will know that you're giving from the heart. If you already have a box in the right format at home, you can wrap and send your gift at your leisure. We also deliver small quantities at attractive prices and with short delivery times.