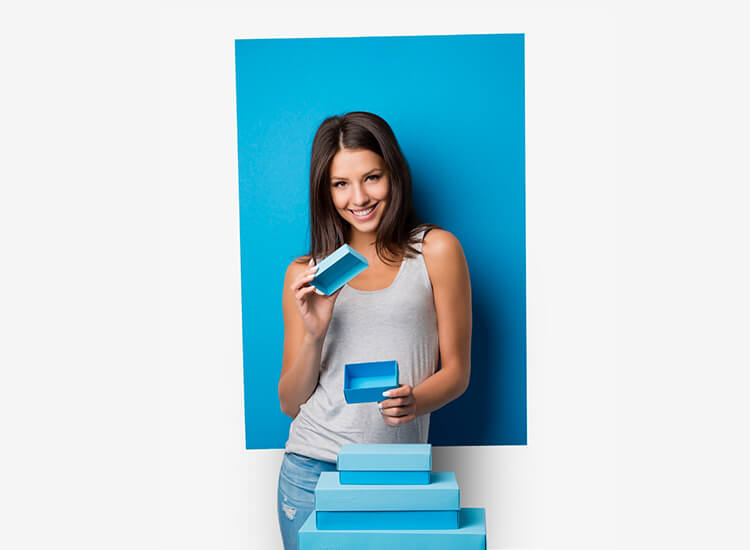 Customization of gift boxes
Our Buntbox team is also more than happy to assist you with any kind of personalizations. We will inform you about all the customization options available and offer you many ideas for your next gift box. Take a look at our range online and get inspired. Do you have any questions? Feel free to contact us, we will be happy to help you out.
The Flower Collection gift boxes – beautiful flower motifs for every occasion
Three roses in the garden or a bouquet of roses on the box – at BUNTBOX you will find flower motifs for every occasion. Whether it's for a birthday, engagement, name day or company anniversary, your gift will be twice as happy in a beautifully decorated box. Our sturdy and practical gift boxes are available in various sizes and designs, so that you can wrap both small and large gifts in a flowery way. The following sizes and dimensions exist for the Flower Collection gift boxes:
S: 102 x 65 x 46 mm
M: 170 x 110 x 60 mm
L: 266 x 172 x 78 mm
XL: 340 x 220 x 115 mm
On all gift boxes with flower motifs, the cover is printed with a flower from our Flower Collection. The bottom part is plain and designed in a colour to match the lid. Please contact us if you would like a specific colour. The lid of the box also leaves plenty of room for stickers, stamps, bows or lettering. You can add a personal message, a name or a saying according to your wishes. The flower boxes can also be used for corporate gifts. We are happy to print your company name or a logo on your chosen boxes.
Your creativity is called for: painting flower motifs
With the Flower Collection gift boxes, you have the opportunity to get creative yourself. You are welcome to paint or design flower motifs and send them to us for your gift box. We will be happy to print it together with your personal wishes on the lid of the box. BUNTBOX is always open to new motifs that support our collections. Therefore, we would be happy if you as an illustrator or designer would like to contribute to the Flower Collection. If you would like to paint flower motifs, your motif will appear together with your name in our selection. Contact us for more information.
Buy a box of flower designs for personalised gifts
Discover our diverse and creative Flower Collection selection. Harmonious colour combinations and the symbolism of your chosen flower will make your gift box extra special. Your printed box will be shipped unfolded. With our easy-to-follow folding instructions, your gift box in floral design will be ready for use in no time. All BUNTBOX boxes are organic and free of chlorine and acids. The sturdy boxes are eye-catching and can also be reused for decoration purposes or as storage boxes.
In addition to our Flower Collection, we offer collections for many other themes and occasions. You'll find gift boxes to suit your ideas. Please send us a request for print and design or use our offer for the combination of different colours to create a Buntbox of your choice.