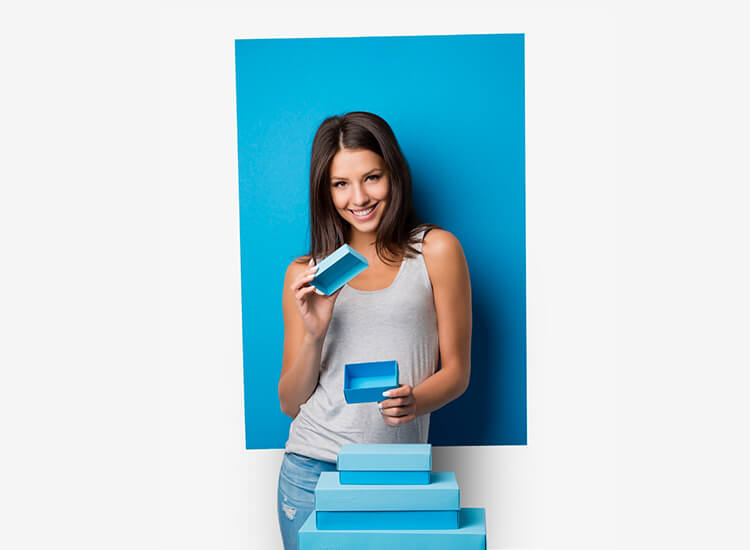 Customization of gift boxes
Our Buntbox team is also more than happy to assist you with any kind of personalizations. We will inform you about all the customization options available and offer you many ideas for your next gift box. Take a look at our range online and get inspired. Do you have any questions? Feel free to contact us, we will be happy to help you out.
Original with handlettering
The handlettering box made of sturdy, high-quality cardboard wraps your gifts in style. It convinces with simplicity and beauty at the same time. Its body is in stylish black and its white lid is adorned with loving words and wishes in beautiful black handwriting. Dedications such as "love", "for you" or "viel Glück" are sure to make the hearts of the recipients beat faster. The Buntbox logo on the lid reveals a love of detail.
More personalised gifts
Your gift will be unique if you have it individually printed by Buntbox. You can choose your own personal dedication, the name of the recipient or even have your own picture printed on the box. The box with hand lettering is suitable for countless occasions: for birthdays, Valentine's Day, wedding anniversaries, Mother's Day, Father's Day, to say thank you, to wish someone a speedy recovery, for Christmas, for an anniversary, for exams passed and so on and so forth. According to your wishes, we at Buntbox will turn your packaging into something very special and unique. If you wish, you can also embellish your box with craft beads, stickers or paint something beautiful on it. The high-quality cardboard is the ideal base for oil, acrylic and wax paints and much more.
Packaging for big and small
Not only is the range of different handletterings huge, but so is the range of sizes. With four different sizes, from S to XL, you can wrap a wide variety of gifts, from small to large. From jewellery, accessories, toys, crafts, lingerie, all kinds of things fit in the box. Let your creativity run free. The smallest box measures 0.2 x 6.5 x 4.6 cm and the largest measures 34 x 22 x 11.5 cm. The packaging is quick and easy to assemble in just a few steps, without any gluing. In our online shop, you can also watch a video with detailed step-by-step instructions.
Double gift
The Handlettering Box not only serves as a beautiful, creative packaging for gifts. The recipient can also use it as an attractive storage box for a variety of things. In addition, you will be remembered forever with your individual dedication or design. This way, your gift becomes two gifts at the same time, with a lasting memory.
Sustainable gift giving
With the handlettering packaging, you are also doing something good for the environment. The cardboard box is sustainable for reuse and avoids wrapping paper that ends up on the garbage bin after unwrapping. In addition, the box was produced in Germany from 100 percent recycled waste paper, chlorine-free, acid-free and environmentally friendly. So for the sake of the environment, give the stylish handlettering box from Buntbox as a gift, which is also inexpensive.
Choose your handlettering box now
Let yourself be inspired in our Buntbox online shop and then choose your favourite packaging from the comfort of your own home. Choose your individual design, personalise as you wish directly on our website and give something really special as a gift. Buntbox offers you a huge selection for every occasion. See for yourself right away.