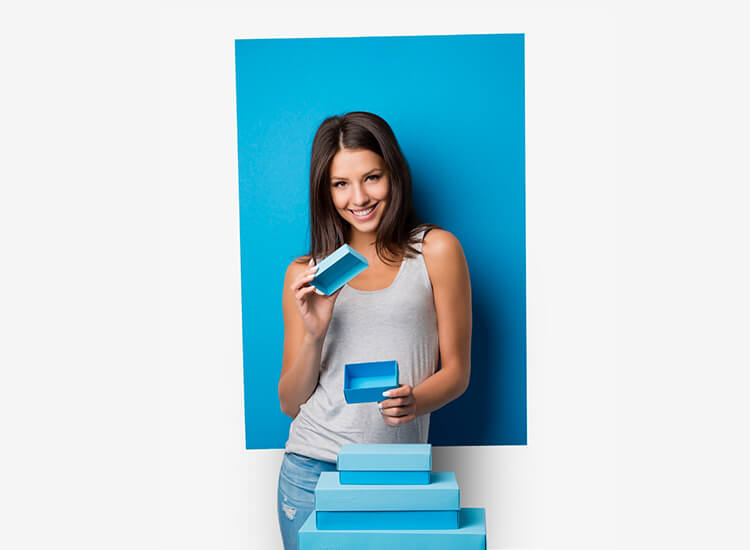 Customization of gift boxes
Our Buntbox team is also more than happy to assist you with any kind of personalizations. We will inform you about all the customization options available and offer you many ideas for your next gift box. Take a look at our range online and get inspired. Do you have any questions? Feel free to contact us, we will be happy to help you out.
Sometimes the packaging is more important than the contents
Whoever presents a gift in our gift box love does not have to make many words: A glance of the recipient or the recipient at the packaging is enough. It almost doesn't matter what the contents are: a gift in a box with I love you written on it is always well received. Even with those who say, I already have everything.
And of course our love box is not a gift box that disappears in the bin afterwards. We are willing to bet that the recipient will keep the box and use it to store many beautiful things such as souvenirs or small items. On a shelf, the heart box is also a beautiful decorative element that reminds you every day of the beautiful moment when you received it as a gift.
The Lovebox - perfect as Valentine's Day packaging
Whether it's Christmas, birthdays or Easter - there are plenty of occasions to give something away. Our heart box is just the right packaging for gifts on occasions like Valentine's Day or even wedding anniversaries or other anniversaries. The classic Valentine's Day gifts are red roses. However, if you want to make your loved one's heart skip a beat, it's best to give something with a personal touch. We've put together a few ideas for you:
Lingerie
Love lock with engraving
Love toys
Photo mug and other personalised gift ideas
Luxury cosmetics
Perfume
Whether romantic or seductive gifts - no matter what you want to give your loved one: With our Lovebox, it's easy to lovingly wrap a Valentine's Day gift or birthday present. This is especially true for those who consider themselves rather untalented when it comes to gift wrapping. Here's an idea for inspiration:
Packaging lovingly with the Love Box - here's how
Wrap the gift loosely in colourful tissue paper and place it in the heart box.
Wrap it with a wide fabric gift ribbon - preferably matching the heart in red
Tie a big bow.
Et voilá! Beautiful and loving gift wrapping is not magic. You'll put a smile on your loved one's face just by looking at the packaging.
Give joy with the I love motif boxes
Also in the range are boxes with city names printed on them: Do you love Berlin, live there or have you been on a city trip there? Then the I-love-Berlin heart box is something for you. We also have boxes for fans of other cities in our Love Collection, for example for Munich, Frankfurt or Cologne.
Like all our packaging, the box is of high quality and sustainable. Take a look right now. You're sure to find a box as Valentine's Day packaging or for another purpose in the right size. The sturdy gift box Love in plain white with lettering in black and a heart is available in different sizes from S to XL.
The gift box Love is available in different sizes from S to XL.