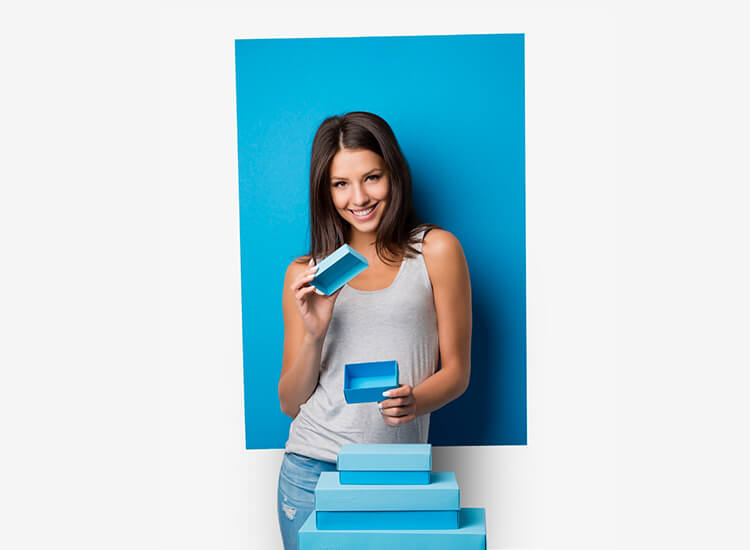 Customization of gift boxes
Our Buntbox team is also more than happy to assist you with any kind of personalizations. We will inform you about all the customization options available and offer you many ideas for your next gift box. Take a look at our range online and get inspired. Do you have any questions? Feel free to contact us, we will be happy to help you out.
DIN A4 envelopes for a variety of uses
The format of official letters has become established as DIN long. These DL envelopes often have a window for the address. C6 is also available as a white envelope. In times of e-mails and smartphones, people hardly ever write letters any more. But if you do take up a pen or pencil, there's bound to be a special reason for it.
If you put a lot of effort into calligraphy, you don't want the result to be bent. That's why we offer heavy-weight cardboard envelopes in a larger format. A DIN A4 envelope immediately stands out in the post. If it is also colourful, no one can miss it. You can also present pictures, photos, letters and certificates directly as a gift in an A4 envelope. The A4 envelope becomes a smart packaging, which you can also choose in your favourite colour.
Coloured cardboard envelopes in many sizes and colours
A large envelope does not always have to be white, you can also find coloured envelopes at BUNTBOX. Just choose your favourite colour for an A4 envelope with a length of 32.5 cm and a height of 24 cm. Choose between:
Diamond (White); )
Champagne (Beige)
Sahara (Light Brown)
Lemon (Light Yellow)
Sun (Yellow)
Mandarin (Orange)
Ruby (Red)
Bordeaux (Dark Red)
Lavender (Purple)
Royal (Blue)
Smaragd (Dark Gre; n)
Graphite (Black)
and many other colours
You can use cardboard envelopes for invitations to birthdays and weddings. Or use a coloured A4 envelope for your private correspondence. An A4 envelope can also be used for thank you cards after the wedding. Due to its high-quality finish and nostalgic design, the A4 envelope itself looks like a small gift.
The somewhat different A4 envelope
Coloured envelopes belong to the category of somewhat different envelopes. At first glance, a large envelope from BUNTBOX is noticeable for its weight and style. With their high-quality finish, the envelopes look different from their paper counterparts. With a cardboard thickness of 350 g/m2, cardboard envelopes weigh much more and are also heavier in the hand.
You can design an envelope in many ways. You can paint or glue it on. You can design envelopes online. This way you can create a whole series.
Design an envelope and show your personality
Coloured envelopes stimulate the imagination. Get creative and design your own cardboard envelope with motifs and letters. Thin paper envelopes set the limits. If you make envelopes out of cardboard, you can try out a lot more.
If you need several copies, you can design your envelopes online at BUNTBOX.
Buy colourful envelopes online at BUNTBOX
A cardboard envelope is an environmentally friendly packaging idea. The colourful envelopes look wonderful and are practical for sending special letters or as original gift packaging. You can send wedding thank you notes or use them as invitations to a special event.