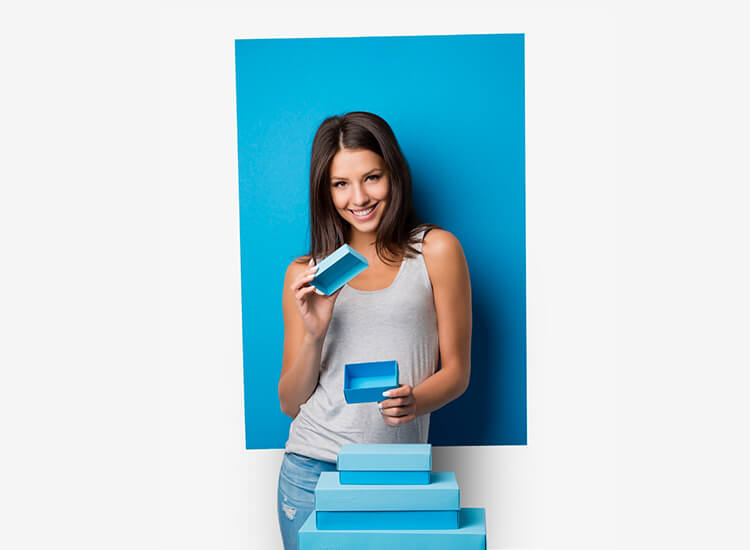 Customization of gift boxes
Our Buntbox team is also more than happy to assist you with any kind of personalizations. We will inform you about all the customization options available and offer you many ideas for your next gift box. Take a look at our range online and get inspired. Do you have any questions? Feel free to contact us, we will be happy to help you out.
The mini cardboard box with a big effect
The mini cardboard boxes from Buntbox are available in countless sizes and shapes. The main thing is mini! For example, you can choose the square boxes. Or would you prefer rectangular mini cardboard boxes? The choice is wide and the cardboard is suitable for a wide variety of occasions:
Weddings
Company celebrations
Birthdays
Customer gifts
Festivals of all kinds
The mini cardboard boxes from Buntbox look great and are in demand in all areas. They not only serve as packaging for gifts, they can also be used as storage boxes. Utensils of all kinds are decoratively stored in them.
Your imagination is called for
Classic cardboard boxes always look the same. The typical brown colour is paired with high functionality. How would it be if you kept this functionality but worked on the design? The Mini Box by Buntbox fulfils exactly these requirements. It is incredibly practical and yet it convinces with its unique design. This design is determined by you. First of all, you choose the colour of the box. Then you can upload a motif and have it applied directly to the box. We have provided you with a configurator so that you know what your mini cardboard boxes will look like in the end before you place your order. This shows you directly how the print will look on the mini cardboard boxes. The entire ordering process works online and is very simple. After just a few minutes, you can send the order and soon the mini box with the unique design will arrive. But why do we have such short delivery times and can offer you excellent quality? Because we use high-quality materials and produce in Germany.
Sustainable products "Made in Germany"
The term "Made in Germany" stands for quality and our Mini Boxes are also made in this country. We can therefore offer you the best possible quality and, thanks to the short distances, you do not have to worry about long delivery times. Your mini cardboard boxes will soon be on their way and arrive at your door. So if you have an event coming up at short notice, you've come to the right place. By the way, all our boxes are made from recycled cardboard. So not only are you getting great value for money, you're also doing your bit for the environment.
What products fit in the little box?
Our mini box is a real bestseller and makes a perfect gift. You can use the small box to give chocolates, jewellery or vouchers, for example. Even for hearty treats or classic promotional gifts, our small box is the first choice. It optimally protects the gifts and is itself also very robust. In addition, it is very attractive thanks to the design options. The focus here is on individual class, and you are sure to delight the recipient.