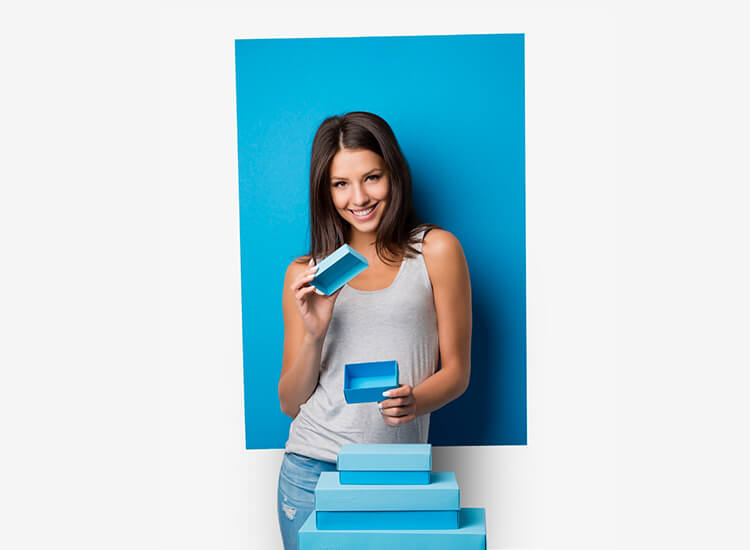 Customization of gift boxes
Our Buntbox team is also more than happy to assist you with any kind of personalizations. We will inform you about all the customization options available and offer you many ideas for your next gift box. Take a look at our range online and get inspired. Do you have any questions? Feel free to contact us, we will be happy to help you out.
Cupcake gift box in many colours
Our cupcake boxes are available in many colours. This means that you can find a box in a colour to match your customised cake, for example. You can also order the lid in a different colour to the box (for boxes made from two parts) – here too, there are no limits to your imagination. Even for parties with a colour theme, you can package the little cakes you have baked yourself and then present them as a gift. Our cupcake boxes are also suitable for weddings, events, summer parties, Christmas or as an individual promotional gift.
Cupcake boxes in different sizes
Our boxes and packaging are available in different sizes. Depending on how many small cakes you want to give away and how much more decoration you want to put around the gift. Our medium sized cube boxes with the dimensions 9 cm x 9 cm x 9 cm are ideal for individual cupcakes. But of course you can also use our other box formats and sizes as packaging for your product:
Gift boxes with lid
Gift boxes with handle
Chest boxes
Gift box bags
Paper and cardboard boxes
Rectangular or flat boxes.
Individual packaging for cupcakes
After you have selected the colour and size of your box from our extensive range, you can finally print it individually. Your chosen motif is applied to the cardboard of the cupcake box by means of a coloured print. This creates completely new effects. You can simply upload the motif in our configurator. This makes your gift even more valuable.
More individuality?
If you have even more individual ideas for the design of your cupcake packaging, you are welcome to contact us. We will then work with you to find a solution for your ideas.
Cupcake packaging
Our cupcake boxes are particularly robust and at the same time very aesthetically pleasing. On the one hand, your cake or muffin is well protected and arrives safely at the recipient. On the other hand, your gift will radiate a high quality and the time and imagination you spent on baking will be shown off to its best advantage.
Cupcake packaging to suit your budget
As we have a wide range of cupcake packaging options, there is sure to be a cupcake box to suit your budget.
Sustainability is also an issue for us
Our cupcake packaging is made from 100% recycled paper and is therefore environmentally friendly. Of course, the boxes can also be used several times, so that you and the recipient can make a contribution to the topic of sustainability.