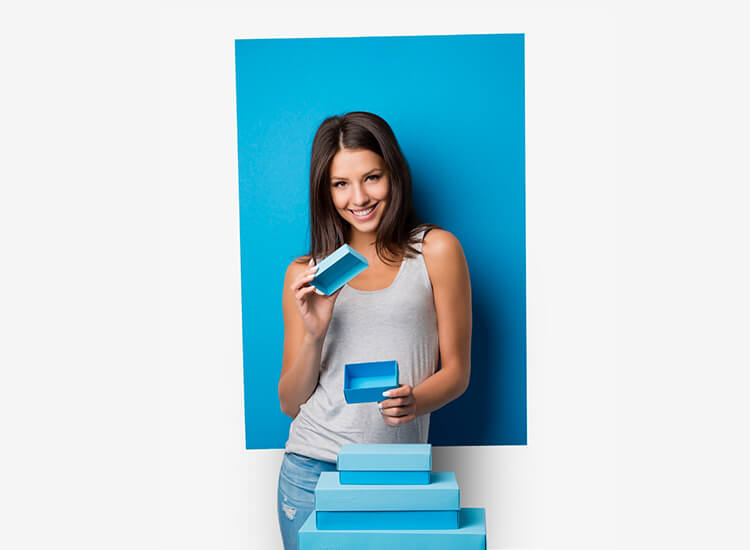 Customization of gift boxes
Our Buntbox team is also more than happy to assist you with any kind of personalizations. We will inform you about all the customization options available and offer you many ideas for your next gift box. Take a look at our range online and get inspired. Do you have any questions? Feel free to contact us, we will be happy to help you out.
Stylishly packed in a black gift box
Your hands hold a black gift box. It feels soft, but the material you're holding is neither velvet nor silk. The lid of the black gift box can be lined with velvet or embossed. If you like it modern, choose a solid colour like black! We have the entire colour palette at your disposal! Modern, discreet and unagitated, but at the same time high-quality and convincing: this is how a black box can be described. With a strong haptic effect that is also highly visible, you are fully in line with the trend of multi-sensory technology. This makes your logo haptically perceptible and tangible, and the box and thus your product remain longer in the buyer's memory. But the play of light and colour always sets brilliant accents that are also visually convincing. Very noble on boxes made of dark black natural cardboard. The elegant black storage boxes are available in common DIN sizes. This leads to a wide range of applications. Use the gift box as an elegant presentation tool for sketches and drawings. Boxes lined with black paper also make great gifts or secure product packaging. You can also simply hold the boxes as storage.
Black gift box! What an experience!
If you are looking for a black box in its purest form, then this dark colour is for you. Black is a very powerful colour that symbolises elegance, class and wealth. It makes the surrounding colours stand out more and provides contrast. This creates a sense of mystery and hides things from the rest. In colour psychology, dark colour refers to protection from emotional stress. It erects a barricade between the outside world and oneself, offering comfort while protecting feelings that can be surrounded by insecurity, vulnerability and self-doubt. In colour psychology, it signifies control and willpower. It also shows self-control, discipline, independence and strong will. The colour can also be used to absorb bad energy. The black box is an attractive and professional packaging for a wide variety of goods, for example from an online shop. The matt black boxes look classy and are made of durable corrugated cardboard.
What are the advantages of black gift boxes?
Our dark gift boxes add a touch of luxury, thanks to dark, completely dyed natural cardboard! Like brown kraft cardboard, natural black cardboard is uncoated and has a natural matt surface that is ideal for finishing. It also impresses with its high tensile strength, flexural strength and stability. Black gift boxes are elegant and high quality, discover this unique packaging project made of graphite black natural cardboard! The contrast between natural black cardboard and gold or silver foil is strong and eye-catching. The foil glitter shines from afar and draws all eyes to the black box. Dark black boxes are beautiful and add a touch of flair to your presentation. The fact that the black boxes are also environmentally friendly, with water-based paint from an ISO-certified factory, is just a bonus. Dark black boxes are also FSC certified. Many people use black boxes to send Christmas gifts or as packaging to ship items from a warehouse. The matt black colour gives the gift box a very exclusive look. In addition, our black boxes are extremely strong and durable.