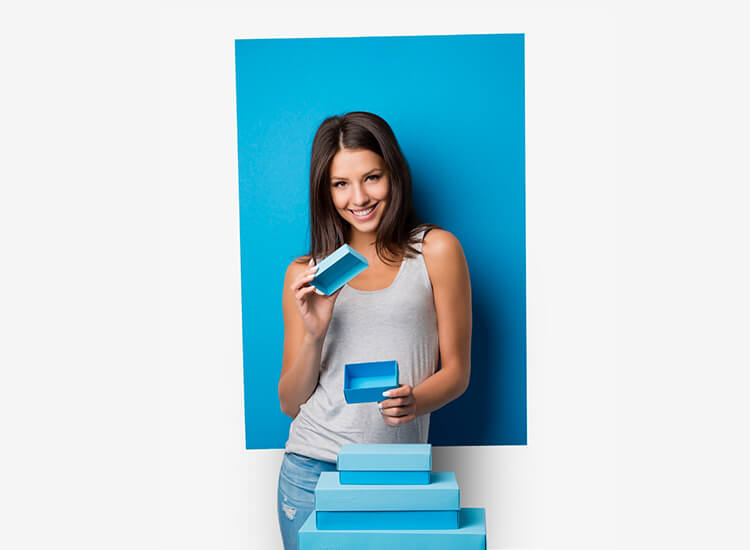 Customization of gift boxes
Our Buntbox team is also more than happy to assist you with any kind of personalizations. We will inform you about all the customization options available and offer you many ideas for your next gift box. Take a look at our range online and get inspired. Do you have any questions? Feel free to contact us, we will be happy to help you out.
Choose the right gift boxes for special gifts
The charm of colours lies in their tonality. That's why we offer you four different blues for packaging:
Azure
Royal
Atlantic
Sapphire
Azure is a synonym for sky at BUNTBOX. Your cardboard box in azure is like looking up at a summer sky: light, fresh and gentle. With the colour royal you choose a rich shade that radiates royal dignity. This gift box in blue is suitable for packaging an individual piece of jewellery or an accessory in a similar colour. With Atlantic, you choose a shade that brings summer into your home, even on cold days. This balanced blue is a symbol of holidays by the sea and a beautiful eye-catcher on the gift table. Sapphires are gemstones with a dark, velvety shimmer: romantic, noble and restraining. That's why the dark blue version of BUNTBOX boxes is called sapphire.
Which gift box in blue to choose?
As with all colours, you are bound to have certain preferences when it comes to blue. There are various ways of choosing a colour:
Spontaneously and intuitively, because a certain shade particularly appeals to you.
Your gift matches one of these blues or sets a deliberate contrast.
The cardboard box finds further use and is in harmony with your ambience or the furnishings of the recipient.
The gift box corresponds to the favourite colour of the recipient.
Your logo or shop concept matches your gift box and symbolises your company philosophy.
The cardboard box convinces in two parts with radiant blue
A cardboard box is an expression of sustainable thinking, because it can be reused. Elaborately folded, the BUNTBOX box is stable and aesthetically pleasing. When opened, it shows the same colour as on the outside, which has a high-quality and harmonious effect. This is why the gift box can also be used as a cardboard box on a shelf, in a cupboard or on a sideboard. It can be used to store different items, cosmetics and accessories.
Perfect idea for a gift: a gift box in blue
BUNTBOX offers you a variety of interesting shapes to choose from, especially for gift giving. A rectangular shape, for example, is suitable for giving a silk scarf, various cosmetic items or a high-quality candle. It is conceivable to line the inside with a silk lining and to add a matching colour or adhesive tape. With the cube and cushion box, you can opt for a stylish, unusual box shape in blue: a surprise effect and a sense of style are skilfully combined!