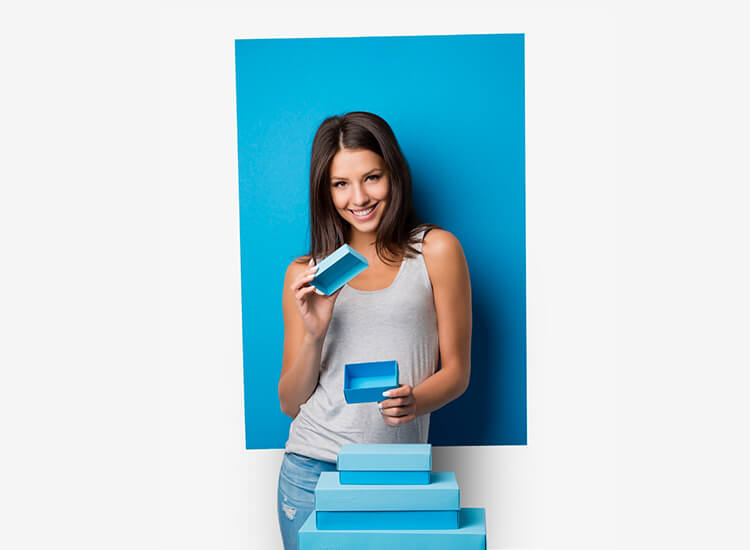 Customization of gift boxes
Our Buntbox team is also more than happy to assist you with any kind of personalizations. We will inform you about all the customization options available and offer you many ideas for your next gift box. Take a look at our range online and get inspired. Do you have any questions? Feel free to contact us, we will be happy to help you out.
What is a small gift box suitable for?
The small gift box is excellent for smaller presents. The dimensions of 10.2 centimetres long by 6.5 centimetres wide and 4.6 centimetres high make the small gift boxes ideal for gifts the size of watches, jewellery or tableware. The area of the bottom is a little larger than DIN A7, i.e. the size of a business card. These boxes are therefore particularly suitable for wedding gifts.
Also suitable for everyday business or private life
If you are thinking of using the box for yourself, you can do so at any time. Especially in everyday working life, filing places are needed where, for example, important notes are kept. The important note from the last meeting or the adherence to a deadline should always be kept in mind and can be perfectly stored in the box. Of course, the boxes are also suitable for smaller accessories, such as paper clips or similar items. However, the box can also be used wonderfully at home. For example, if you want to protect jewellery from too much light, you can seal it in our boxes. You can be sure that your valuables are well stored in the boxes because the sturdy corrugated cardboard offers robustness. Thanks to the individual design of our boxes, they cut a good figure everywhere.
Let your imagination run wild
With our configurator, we offer you a free hand when it comes to designing your boxes. Choose from a variety of bold colours, which look particularly good on the cardboard we use. Depending on the occasion, you can customise the colour of the small gift box. If you want to personalise it even more, you can of course also use our upload feature. You can simply upload a picture, logo or other motif in the configurator. Place the motif on the box wherever you like and let us print it exactly as you want it.
A small gift box that impresses with its quality
To be able to guarantee that the offered box can convince you in terms of quality, we use the best corrugated cardboard made from 100 percent recycled paper. The cardboard is therefore not only robust and stable around the edges, but also extremely environmentally friendly. Our printing process, coupled with the high quality cardboard, makes any printed motif look sharp and bold.
High quality and sustainable
As already described, we only use recycled paper for our small gift box, as we do for all our products. In this way, we promise you as a customer that we are doing our part to preserve our planet. The topic of climate neutrality, sustainability and recycling is very close to our hearts, which is why we make sure that the production and distribution of the box is as low-carbon as possible for all our products.
Do you have any questions?
If you are convinced by our gift box in small, then why not try out the configurator? If you have any further questions about our products, production or customisability, you can always contact our friendly and communicative customer service. We are here to help you with any questions you may have and look forward to hearing from you.