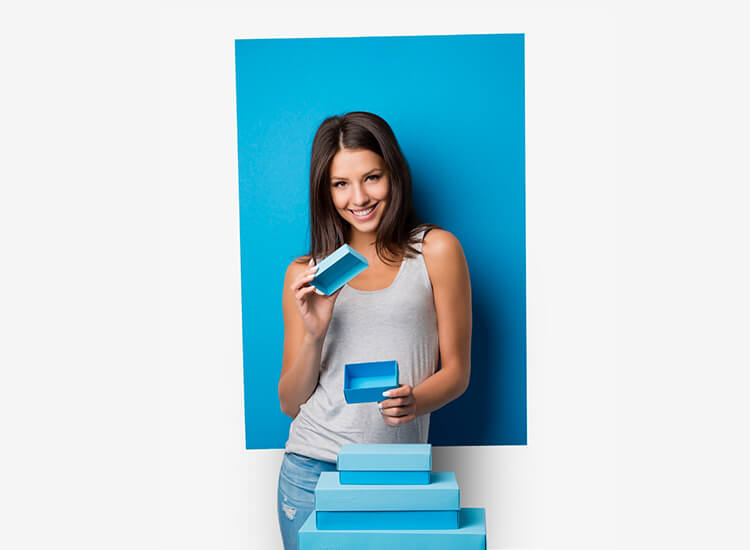 Customization of gift boxes
Our Buntbox team is also more than happy to assist you with any kind of personalizations. We will inform you about all the customization options available and offer you many ideas for your next gift box. Take a look at our range online and get inspired. Do you have any questions? Feel free to contact us, we will be happy to help you out.
Classic in dark red, noble in Bordeaux or fresh in magenta?
Red is the colour of love and dynamics. Red is also the colour of festive velvet curtains and fine red wine. On Christmas Eve, the baubles glow red in the candlelight, in summer the cherries on the tree. Not only children name red as their favourite colour. If you are looking for a suitable packaging, a gift box in red can be the perfect solution.
At BUNTBOX you will find several colours ranging from crisp ruby red and wine red as Bordeaux to pink magenta and delicate flamingo pink. You can create fantastic arrangements with large bows or choose the minimalist version, where the shape and colour of the box work on their own.
The right shape of packaging for your gift
With a little skill, many things are easy to wrap. With a book or other rectangular objects, this is not difficult. But what do you do with a piece of jewellery or many small items? We have the right boxes for you:
Envelopes in solid cardboard quality as colour mailers are suitable for gifts of money, photos, graphics and important letters
Cushion-shaped boxes are perfect for jewellery, textiles such as scarves, shirts, shorts or socks; Cardboard bags are an original eye-catcher with space for many different things
Handbags in XL are gift boxes designed as a handbag that can be filled with many individual items;
Surprise bags are surprise boxes in school format for sweets and small items
Cube boxes are hinged square boxes
Rectangular boxes with lids are classic gift boxes that hold everything from pens to wine bottles
Which gift box for which occasion? 3 criteria for choosing the right box
How do you find the right packaging? There are 3 criteria you can use to guide you. First of all, start with the occasion: elegant for an official anniversary or an upmarket occasion, fresh and confidential for a best friend, funny for a child's birthday. Gift and packaging should always be seen as a unit. The box may be minimalist, but it should match the value of the gift.
Secondly, look at the size. It should be appropriate, neither too small nor too big. Your gift should not be squashed, nor should it roll loosely back and forth.
Third, choose a colour that contrasts with the gift or is tone-on-tone. A black pen looks just fantastic in a slim red box. A pink scarf looks great in a red cushion box.
Your customised gift box in red
You want to get creative? A box from BUNTBOX offers you the best conditions. Choose a gift box in red and paint or stick on it. Try your hand at lettering or use a particularly nice ribbon to tie it up and decorate it with seasonal flowers.
Find red boxes online at BUNTBOX
You can find environmentally friendly packaging in many shapes, colours and sizes in our online shop. We are sure to have the right box for you in light or dark red, pink or flamingo pink.