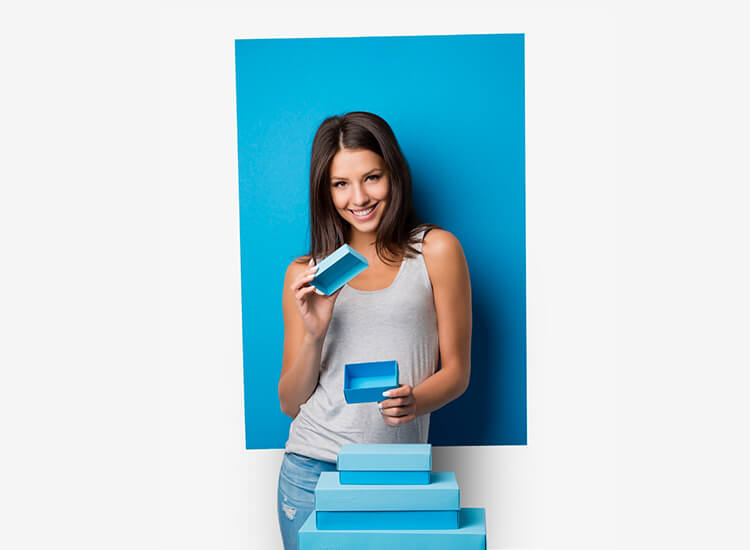 Customization of gift boxes
Our Buntbox team is also more than happy to assist you with any kind of personalizations. We will inform you about all the customization options available and offer you many ideas for your next gift box. Take a look at our range online and get inspired. Do you have any questions? Feel free to contact us, we will be happy to help you out.
Coloured paper bags for wrapping gifts
The handy coloured paper bags with sturdy handle are ideal packaging for a small gift or several very small presents such as jewellery or collectible figurines. You place the gift openly in the gift box with handle or if you want to make it a little more exciting, you wrap it in a nice wrapping paper beforehand. The practical paper carrier bags are 9.5 cm long, 5.2 cm wide and 13.2 cm high including the handle. The colourful paper bags are available in eight different attractive BuntBOX colours:
Light green
Sea blue
Beige
Lilac
Pink
Red
Dark grey
Yellow
In the paper bags, you arrange gifts for the recipient in the way that suits the purpose best. Choose the small paper bags in one colour or in the favourite colour of the family member, friend or colleague you want to please. You can place the gift on candy or decorative paper flowers in the pretty coloured paper bag if you want to add to the surprise effect.
Small paper flowers as loving gift wrapping
Gift giving is a heartfelt matter and that is why you think about the right way to present the gift. Should the packaging be plain or colourful, neutral or intricately patterned? Do you find it easy to cut wrapping paper and make a nice looking package out of it? BuntBOX offers you a practical solution that makes pretty wrapping easy. You can use the small paper bags directly, without long preparations. The paper bags in gorgeous colours are especially easy to fill with small gifts.
Simple and without any strings, the paper bags with handles have their own colour that appeals to the soul of the recipient. You can have the paper carrier bags printed so that they carry a personal message or design them with stickers, write on them yourself or paint them. With us you will find colourful paper bags as creative packaging that will perfectly frame your gift.
Printing paper bags in an individual design
We print our colourful paper bags with a motif or lettering of your choice. This way you can personalise the BuntBOX bags and make them suitable for your individual use. For Easter, you can have the paper carrier bags printed with bunnies or colourful eggs. To present a wedding gift, a ring or heart motif is particularly suitable for printing on the paper bags and thus making a happy statement. Tell us your wishes and we will realise your ideas.