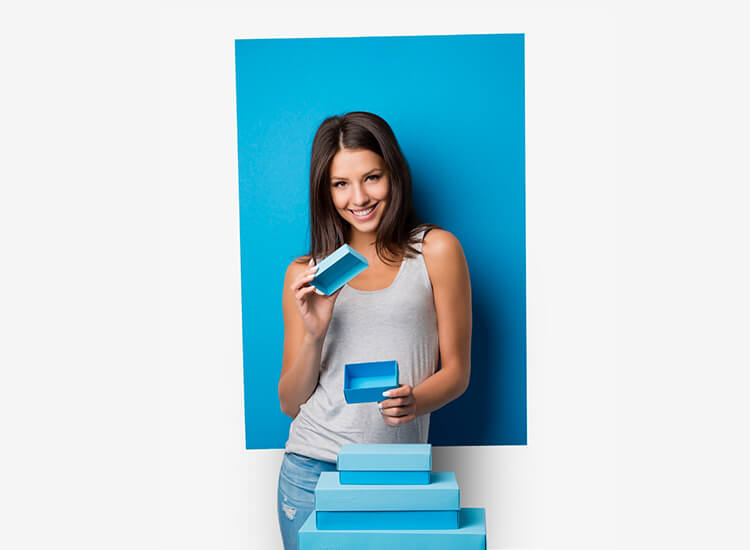 Customization of gift boxes
Our Buntbox team is also more than happy to assist you with any kind of personalizations. We will inform you about all the customization options available and offer you many ideas for your next gift box. Take a look at our range online and get inspired. Do you have any questions? Feel free to contact us, we will be happy to help you out.
Cardboard storage boxes
People keep many things in the course of their lives that they want to remember for a long time. Be it old love letters, children's photos, souvenirs, gifts or holiday souvenirs, the cardboard storage boxes with lids are excellent time capsules. Storage boxes can hold old cds, personal items, diaries, even old clothes, purses or a small gift from inheritance and family keepsakes. Collecting such mementos, which would otherwise be lost, not only preserves the memory of someone or of one's own childhood and youth, but also creates space alongside it. The cardboard storage boxes are designed to be kept simple and can also be stacked on top of each other with a lid. You can label them to indicate which things you are storing in them. The models at BUNTBOX as Hikidashi Box Set are wide, stable and available in subtle colours. With a lid or as a colour cube, they offer enough space for storing your memories.
Storage boxes for letters, papers and documents
In everyday life, many things get lost and it is important to remember the beautiful moments. The paper storage box by BUNTBOX is ideal for documents and letters, but also for concert tickets, entrance tickets, self-painted pictures, photos and important papers. In storage boxes with cardboard lids you can store everything that has a high emotional value for you. There is no need to clean out or part with mementos. Storing things is especially easy with stylish cardboard storage boxes.
Memory box for photos
Stored objects and documents allow you to look back on the past years later or remind you anew of that time. Letters or photos bring your own life to life. In cardboard storage boxes you can store important photos that don't fit into a photo album but shouldn't be thrown away either. Later, you will be happy that you can look at them again.
Boxes for collectors
Cardboard storage boxes with lids have also become popular for collectors' items and objects with a high rarity value. Be it stamps, coins, postcards, fossils or banknotes, you can store everything that has value for you in cardboard storage boxes. Limited editions of art and collector's items, books or special documents are popular. The cardboard storage boxes offer enough space to accommodate a large number of your collection.
Order storage boxes with lids cardboard and cardboard online
Memorabilia are objects of the heart, regardless of whether they concern your own life or are souvenirs and gifts from others. Anything that brings a smile to the lips or revives something long forgotten is worth keeping. In a cardboard box or a decorative box, the whole thing also looks beautiful from the outside. You can buy the storage box as a set and fill it with contents to stack the boxes on top of each other. They also make excellent gifts. At BUNTBOX you will find a wide selection of the most beautiful boxes for versatile use. All your favourite things can be perfectly sorted and viewed whenever you want. The boxes fit in every cupboard, under the bed and also look chic and elegant on the shelf. So you always have your souvenirs at hand.