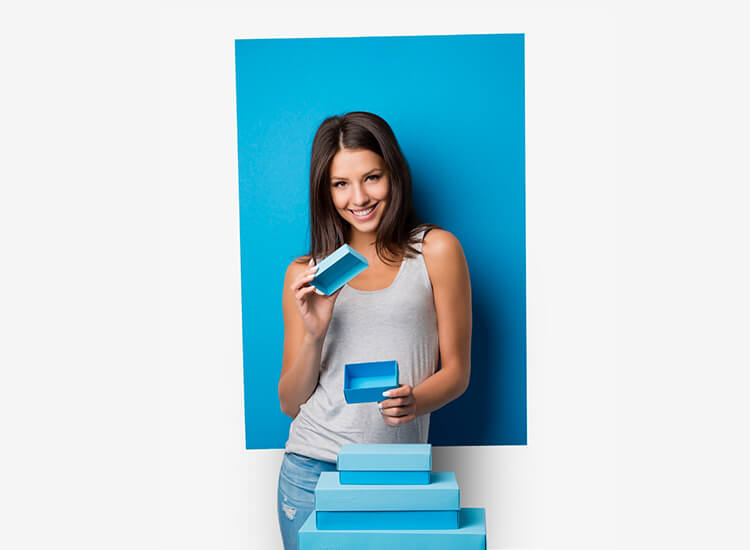 Customization of gift boxes
Our Buntbox team is also more than happy to assist you with any kind of personalizations. We will inform you about all the customization options available and offer you many ideas for your next gift box. Take a look at our range online and get inspired. Do you have any questions? Feel free to contact us, we will be happy to help you out.
Cardboard boxes in white; from classic to extravagant
If the term "cardboard box" only brings a shoe box or a box of chocolates to mind, you are underestimating the category of cardboard boxes. Except for shapes and sizes, there are differences in the lids. Cardboard boxes with lids in white can be boxes with removable lids as well as boxes with fixed flap lids. We offer:
Cardboard box with separate lid
Cube box with hinged lid
Pillow box
All boxes are carefully processed. The cardboard of the boxes consists of 100% recycled paper. The manufacturing process from the cardboard to the finished box is: "Made in Germany". By choosing the reusable cardboard boxes made from 100% environmentally friendly materials, you are acting in an ecological and sustainable way. The cardboard box with lid in white is also visually appealing with its elegant appearance and clean processing.
You can find cardboard boxes with lids in white in numerous sizes – and in addition to white in other colours from pastel to brightly coloured. We would like to introduce you to our cardboard boxes in more detail:
Cardboard box with separate lid
The rectangular cardboard box is the classic cardboard box. Our cardboard boxes in white with separate lid are available in sizes M, L and XL. You don't have to wrap the white box in wrapping paper, you can decorate the cardboard yourself. Alternatively, you can tie an elaborate bow around it.
Cube box with hinged lid
With its comprehensive symmetry, the cube box with practical hinged lid is a delight even before the contents are unwrapped. We offer it in sizes S and M; perfect for small gifts such as jewellery, perfume, tea, chocolates or spices. Afterwards, the small cube can be used to store small objects such as paper clips, thread spools and more.
Pillow box
The design of the pillow box is striking. The distinctive cardboard boxes in sizes S and M are lightly weighted and therefore ideal for small, flat gifts, for example photos, ties or vouchers. In today's digital age, handwritten letters also have a special charm. You can address the cushion box like a letter. The pillow box is only too delicate to be sent by post. It's better to deliver your greetings personally or send them as a small package in a white cardboard box.
Always well equipped with white cardboard boxes
Because cardboard boxes are so versatile and practical, you should never be without them. Stock up on a small supply of white cardboard boxes
.