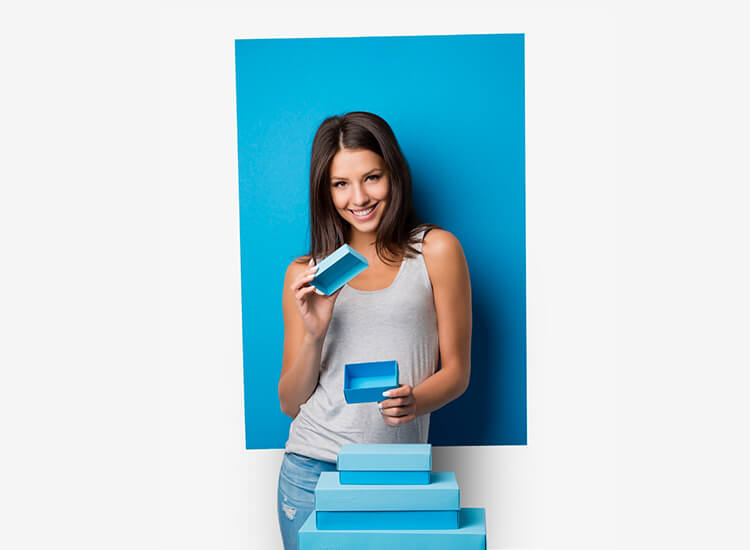 Customization of gift boxes
Our Buntbox team is also more than happy to assist you with any kind of personalizations. We will inform you about all the customization options available and offer you many ideas for your next gift box. Take a look at our range online and get inspired. Do you have any questions? Feel free to contact us, we will be happy to help you out.
For every purpose a suitable black box
We offer you a large selection of black boxes in different formats and variations. So for everything you want to store or pack, you will find a beautiful and stylish looking box in black. Whether it's a pretty gift box, a black folding box, a practical box with a lid, a black envelope, a simple cardboard box in black or even a black cardboard handbag – you can get a suitable black box for every occasion from us.
High quality for great durability
BUNTBOX boxes are always distinguished by their excellent quality. We use high-quality materials as well as high-quality dyes that give the boxes their bold black colour. Because we also take care in the processing of our products, the boxes can withstand a lot of wear and tear and retain their good looks.
Gift boxes in black
Folding boxes in black are particularly suitable as elegant packaging for your gifts. If you want to please someone and present your gift in style, black packaging is an excellent choice. Black is a classic and classy colour that always suits and pleases both men and women. So with a black gift box from BUNTBOX you can make sure that your gift is well received even before you open it. If you are looking for an extra creative gift box in black, the cardboard handbag is a great idea for you.
Gift box in black for large gifts
Even if you want to wrap a large gift beautifully, we have the right gift box in black for you. A gift box in black for large gifts is particularly impressive and quickly makes an interesting impression. Since you can find pillow boxes as well as cube boxes and boxes in different sizes, you will also find the right packaging form for your gift.
Keep things tidy with black boxes with lids
Our cardboard boxes in black are not only suitable as gift boxes, but also for storing and sorting various things. The black boxes with lids are particularly suitable for storage, as they protect their contents from dust and dirt. As black is a particularly discreet colour that goes with everything, you can easily stow the boxes on shelves, in or on the wardrobe or even under the bed.
Customise gift boxes in black creatively
If you find the plain black packaging too boring after all, you can customise our gift boxes in black wonderfully yourself. You can apply appliqués made of different fabrics, photos, bows or even glitter to the deep black base colour, which will look great on the black folding boxes, envelopes and boxes. Simply choose a suitable gift box or folding box in black as the base and give it a personal touch.