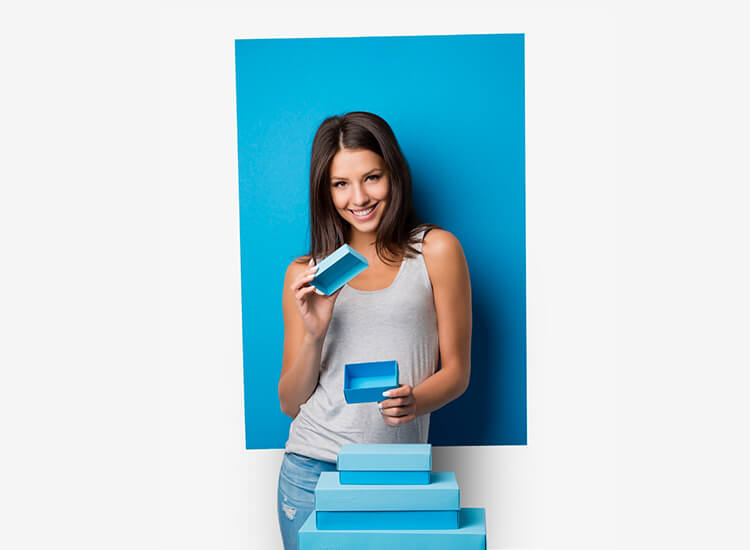 Customization of gift boxes
Our Buntbox team is also more than happy to assist you with any kind of personalizations. We will inform you about all the customization options available and offer you many ideas for your next gift box. Take a look at our range online and get inspired. Do you have any questions? Feel free to contact us, we will be happy to help you out.
A blue box for your gift and much more
Small gifts can be effectively packaged and get the right frame. Are you looking for suitable packaging for large or unusually shaped gifts? At BUNTBOX you have a wide choice of boxes in many different colours.
Which colour of packaging suits your gift best? You can choose a colourful version and go for contrasts. You can choose an elegant tone-in-tone version and present a light blue gift in a dark blue box. BUNTBOX provides you with all the basics for an imaginative design with bows and lettering according to your wishes.
Gift boxes from light blue to dark blue
With many colours ünen convinces the gift box in blue. Delicate light blue is reminiscent of the sky blue on a summer's day, while the royal blue Royal is a rich, imperial blue shade familiar from keys. The blue tone Atlantique transports you directly to the sea. Sapphire is another precious shade of blue, with a dark blue that is mysteriously reminiscent of the magic of gemstones.
You can adapt the shades of colour to the gift card and ribbon. The result is beautiful creations that turn unwrapping into an experience and underline the value of your gift. The value does not always have to lie in the material. Often it is the lovingly selected and carefully wrapped gift that makes it special for the recipient.
Blue packaging in many sizes and formats
At BUNTBOX you will find many different variations of gift boxes in blue. You can choose classic square shapes with lids and we also have unusual shapes for you like handbag or school shapes. You can get blue packaging at BUNTBOX as:
Rectangular boxes with lids
Boxes as cubes
Pillow boxes
Gift boxes as handbags in XL
Cardboard bags
Surprise bags as school and surprise bags; surprise bags
Colour Mailers as envelopes in solid cardboard quality
Gift boxes in blue for every purpose
Are you celebrating a birthday or have you been invited to a first day at school? Has your best friend passed an exam or are you looking for sky blue packaging for wedding giveaways?
Our boxes are suitable for all types of gifts. You can even present your engagement ring in a blue box with a lid.
With lettering and ribbon, you can make your blue gift box unique. It can also be glued on and quickly becomes a small work of art. Take a look at the unusual variations like our bags and handbags made from blue cardboard. Aren't they something for fashionistas?
Sustainability in blue
Our gift boxes are made of sturdy cardboard and have a high-quality finish. So you can wrap gifts safely, beautifully and completely plastic-free. In addition, you are contributing to sustainability. All boxes can also be used as storage boxes.
Buy blue gift boxes online at BUNTBOX
You can get gift boxes in dark blue or gift boxes in light blue in different sizes online at BUNTBOX. The right box for you is guaranteed to be there too!