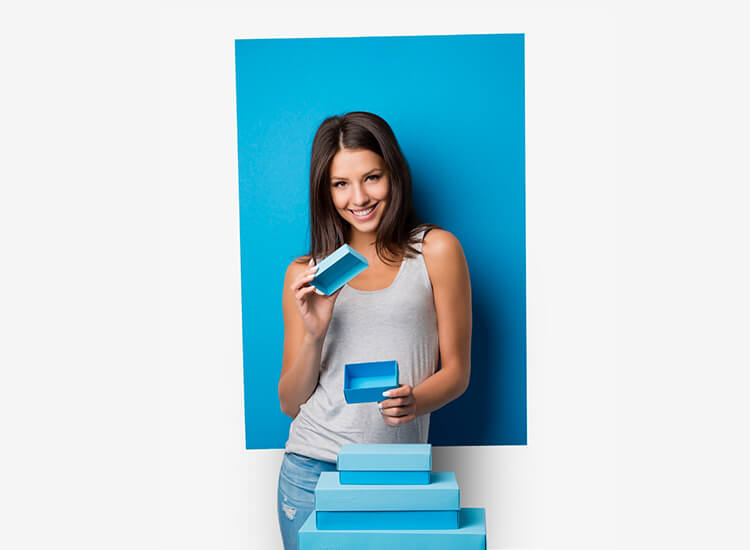 Customization of gift boxes
Our Buntbox team is also more than happy to assist you with any kind of personalizations. We will inform you about all the customization options available and offer you many ideas for your next gift box. Take a look at our range online and get inspired. Do you have any questions? Feel free to contact us, we will be happy to help you out.
Light brown box in Buntbox colour Sahara
Our collection of classic light brown cardboard boxes is reminiscent of the endless expanses of the Sahara. The light colour of the brown packaging radiates warmth and looks particularly noble. This means that the contents are always presented from their best side. Thanks to the high-quality workmanship, you can be sure that your gifts and souvenirs are safely protected from damage and breakage. In our shop you will not only find sturdy gift boxes in brown. We also offer cushion boxes, cube boxes and mailing bags in the colour Sarah. Our cushion boxes are perfect for jewellery or small textiles, for example. A gift box in brown, on the other hand, offers plenty of space for gifts, promotional items and presents of all kinds.
Brown packaging in the Buntbox colour tobacco
Often gifts or thank-you notes simply need unusual packaging. Our tobacco coloured cardboard boxes feature a unique brown hue reminiscent of Colombian cigars. The special shade of this premium gift box puts any attention in the perfect light. For a very personal touch, you can of course decorate all our gift boxes with prints or labels. Let your creativity run free. This way, your gift is not only optimally packaged, but also causes a stir and leaves a positive impression on the recipient.
Dark brown box in the Buntbox colour mocha
Our boxes in the colour mocha are reminiscent of aromatic coffee and dark chocolate. A decorative brown box in the colour mocha offers you a variety of possibilities. The cushion boxes are perfect for small trinkets, vouchers and promotional gifts. Our brown boxes, on the other hand, can be filled with delicious sweets or unusual gifts. Whether it's a wedding, a birthday or a company gift, with brown packaging from our company you will always present your gifts in the most beautiful way. This way, the recipient's joy will be all the greater when he or she unwraps the gift. At trade fairs and events, you can achieve a great advertising effect with a gift box in brown at little expense. Of course, you can also combine our gift boxes in brown and decorate them individually to achieve the greatest possible effect.