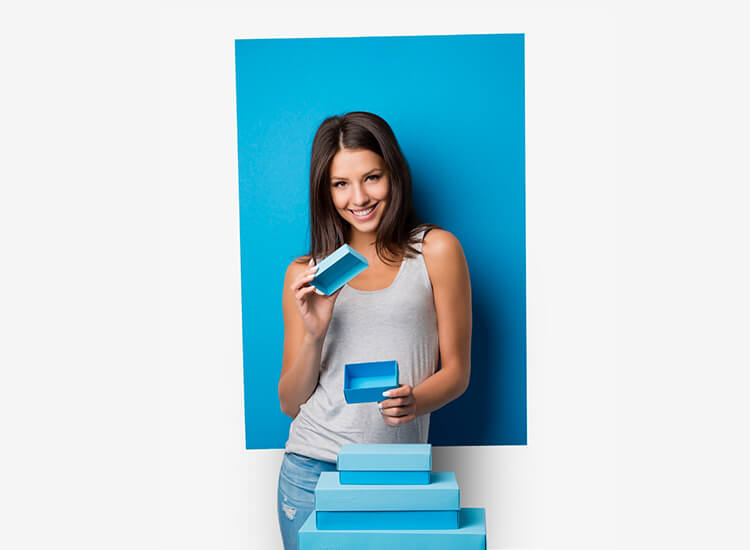 Customization of gift boxes
Our Buntbox team is also more than happy to assist you with any kind of personalizations. We will inform you about all the customization options available and offer you many ideas for your next gift box. Take a look at our range online and get inspired. Do you have any questions? Feel free to contact us, we will be happy to help you out.
Gift boxes in grey – minimalist and elegant
Grey is the new colourful, especially when your gift sparkles with colour. Gift boxes in grey allow you to concentrate on the essentials. With us, you can choose between different greys to find the right gift packaging: light grey like noble platinum or an idea darker grey like robust slate, the gift box is designed in grey.
Grey is suitable for noble gifts like jewellery, for more robust gifts like handicrafts or simply for all those who love it minimalistic and pure. You can make a splash with grey in combination with a gold or silver ribbon or simply go for understatement.
Gift boxes in grey in many shapes and formats
With us you can get boxes and cartons in many colours, shapes and sizes. Once you have decided on a shade of grey, you can choose the shape that suits you best. Gift boxes in grey are available as:
BUNTBOX gift box with lid
BUNTBOX Colour Cube, the cube-shaped gift box
BUNTBOX Colour Pack, the cushion-shaped gift box
BUNTBOX Colour Bag, the cardboard bag - bag-shaped gift box
BUNTBOX Handbag XL, the extra-large gift box; e cardboard handbag - gift box in handbag form
BUNTBOX Surprise Bag - Überraschungststüte or Mini-Schultü BUNTBOX Colour Mailer, the cardboard envelope
BUNTBOX Frame, the cardboard canvas
Grey cardboard for boxes that have it all
When it comes to packaging, it's the design that counts. It is not only the colour that makes it come alive, but also the quality of the box and the finish. The gift box conveys the first impression and sets the mood for the gift.
Our high-quality cardboard in an appealing colour design and precise processing ensures positive attention. Even small gifts will make it to the front row of the gift table.
The right box for every occasion
Wedding? Birthday? Passed your exams? With us you will find the right packaging for your gift. You can let your imagination run wild: Choose a simple grey gift box in the shape of a cube and decorate it with a coloured bow. Humorously design a gift box in the shape of a bag and personalise it with a monogram or give a surprise bag with small gifts to start your new job. We can also print your gift box for you!
Sustainability in grey
Our grey cardboard for boxes is characterised by high-quality material and careful processing. This makes the boxes suitable for reuse. They themselves become a gift that begins a second life as a protected tidy box.
Discover all variations of gift boxes in grey at BUNTBOX
There is always an occasion for gifts. You can get the right boxes for big presents and small gifts at BUNTBOX. We will help you find the right packaging that will keep your gift securely wrapped and stylishly displayed. With a gift box in grey, unwrapping becomes an experience!