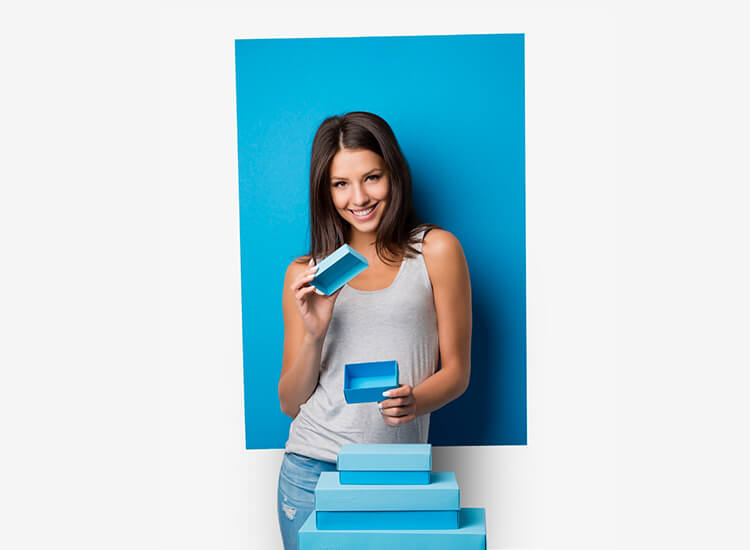 Customization of gift boxes
Our Buntbox team is also more than happy to assist you with any kind of personalizations. We will inform you about all the customization options available and offer you many ideas for your next gift box. Take a look at our range online and get inspired. Do you have any questions? Feel free to contact us, we will be happy to help you out.
Everything freshly packaged with orange boxes
Some colours radiate pure joie de vivre. Orange is one of them. The radiant tone inspires big and small people. It motivates and infects with its cheerful charisma. If you wrap a gift in an orange box, you have already won. You are sure to attract attention and get a smile.
A brighter orange as a tangerine evokes fresh ideas, a darker orange as a lobster evokes elegant associations. You can choose your cardboard box in orange to suit the mood you want and bring your best friend a little joy in the box or present the lady of your heart with a precious gift.
Gift boxes in orange in many shapes and sizes
A gift needs the right setting to unfold its effect. The proportions are not always right. Are you looking for the right box for a pen, do you want to present a gift of money in an appropriate form or do you need packaging for a pair of earrings? We at BUNTBOX support you with many different formats like these gift boxes in orange in different sizes:
Cube boxes
Rectangular boxes with lids
Colour mailers in thick cardboard quality
School and surprise bags
Surprise bags
All kinds of boxes in orange;
Pillow boxes
Cardboard bags as gift boxes
Gift boxes in handbag shape as XL handbags
Orange cardboard boxes have it all
You can get inspired by our different cardboard shapes. Add a bow and the orange cardboard box becomes a little work of art to surprise your best friend on her birthday. If you are looking for small boxes for give-aways for an anniversary or wedding, we can also print them for you. That way they get something individual. You can also paint a single piece yourself or add a monogram in caligraphy.
The right cardboard box in orange for every occasion
There is always something to celebrate. There are the big celebrations like Christmas, weddings or a milestone anniversary and the many small occasions when you spread joy with gifts.
Gift boxes in orange are just the right thing for small gifts for a child's birthday, a bottle of wine for a summer party or a piece of jewellery that you have chosen with love.
Sustainably packaged in an orange cardboard box
Sustainability is becoming increasingly important. It is worthwhile to check packaging for its environmental compatibility. With BUNTBOX you win twice on this subject: The cardboard boxes in orange are made of cardboard and they are recyclable. The shapely, perfectly processed boxes are wonderfully suitable for reuse. They find space in the household and keep things tidy in the future.
Discover many variations of orange gift boxes online at BUNTBOX
Were you looking for boxes for packaging? Take a look around and find the cardboard box in orange that fits your gift exactly. Choose the box in the same colours as the gift or deliberately accentuate it!
The cardboard boxes in orange match your gift.