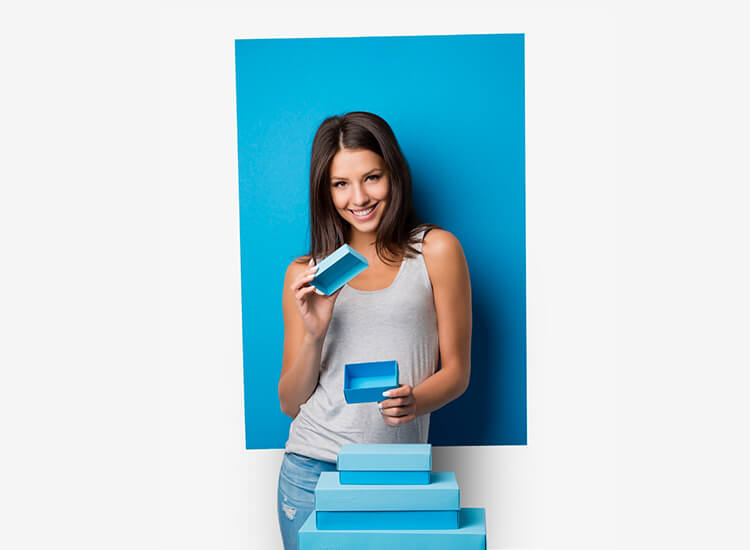 Customization of gift boxes
Our Buntbox team is also more than happy to assist you with any kind of personalizations. We will inform you about all the customization options available and offer you many ideas for your next gift box. Take a look at our range online and get inspired. Do you have any questions? Feel free to contact us, we will be happy to help you out.
The occasions are many
You are wondering for which occasions the red box with lid is particularly popular? First of all, of course, Valentine's Day. You could place a nice piece of jewellery in the gift box or even a high-quality fragrance. Many other possibilities are offered to you. Our gift boxes will also make your eyes light up on birthdays or Christmas Eve.
The quality is right
Not only the design of our red boxes will convince you, but also the quality of the red storage boxes is beyond all doubt. The box is very robust and has been designed for multiple use. The red box with lid is very easy to open and close. We also offer you different colours. Not all red boxes are the same.
Which red box would you like?
When you have decided on a red gift box, you are spoilt for choice. We have a range of different reds for you to choose from. The pink gift box is very decorative and of course goes down well with almost all girls. The delicate pink looks very filigree and sets gifts of all kinds perfectly in scene. If you want a rich red box with a lid, then we also have the right model for you. The colour Bordeaux radiates an incredible elegance and really puts every package in the right light. It is reminiscent of high quality wine and is extremely elegant. You can also opt for ruby red storage boxes. It reflects all the power of ruby. In the end, it doesn't matter whether you choose the pink, bordeaux or ruby gift box, any of our packaging will be well received. By the way, our portfolio of red boxes with lids is far from exhausted. You will even find magenta or flamingo-coloured boxes in our range.
Available in many different sizes
In addition to a chic design, we also offer you different sizes for our red storage boxes. This means that a small gift can be packaged just as attractively as a big surprise. Our boxes are also ideal for storing a wide variety of utensils, for example in a child's room.
The gift box in red is a must-have
There are simply products that are used for many occasions. Our red packaging is one of them. It is particularly resistant and easy to handle. By the way, you should also consider another important aspect. Our red storage boxes are very environmentally friendly. You want to wrap gifts in a decorative way? Then choose our gift boxes. These boxes are convincing all along the line.