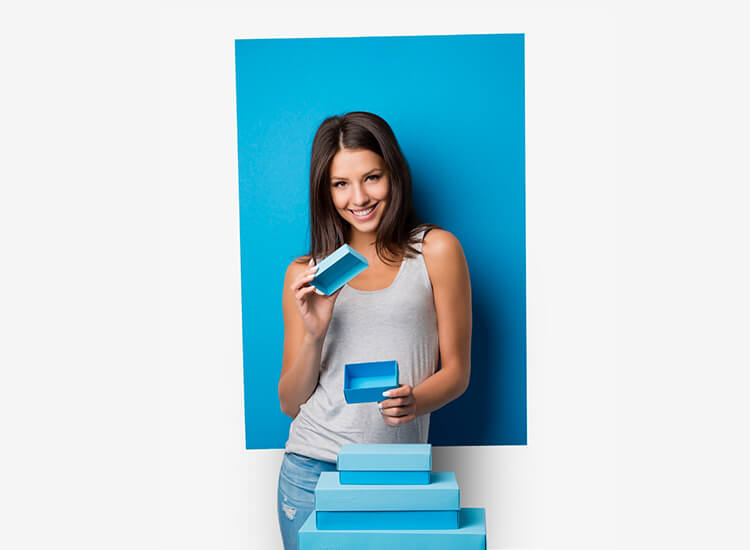 Customization of gift boxes
Our Buntbox team is also more than happy to assist you with any kind of personalizations. We will inform you about all the customization options available and offer you many ideas for your next gift box. Take a look at our range online and get inspired. Do you have any questions? Feel free to contact us, we will be happy to help you out.
Gift box in white for many occasions
Whether a small hand-blown vase, a fine silk scarf or a special piece of jewellery: in a white box, your gift will stand out in a special way. Why? For one thing, it heightens the suspense. The shape of your white gift box doesn't reveal anything about the contents. At the same time, a box is great to present on the gift table, easy to send and pleasant to hand over. With white you are not limited. Depending on the recipient, you can choose a pink, blue or even multi-coloured banner to give your white box a festive look. Another sustainable idea is that your white gift box can be used for other purposes. Either for storage or for a new gift to a loved one!
White boxes with lids
We love the colour white. In this section you will also find different colours. Diamond and Champagne both belong to the white box category, but they have different colour nuances. Diamond scores with a clear, brilliant shade. Champagne is warmer and tends towards beige. Both whites can of course be coloured. This is possible with colourful satin banners, raffia or rustic laces. A white box with a lid can also be painted or personalised with a saying. Colourful shapes are possible, but also curved lettering that expresses joy, wishes or something personal. Your white box with lid can also be decorated with colourful adhesive tapes. These are available in many patterns and, of course, are also produced sustainably.
White box with lid: perfectly packed
Each box can fulfil different functions. That's what makes them so practical. For example, cube and cushion boxes are ideal as gift boxes; the latter for delicate jewellery or filigree writing instruments. But a box in white can do even more! Thanks to its uncomplicated shape, it can be used permanently in the home or in a shop. Then the box becomes a storage box in white with a lid. White boxes stacked next to or on top of each other look clear, tidy and neat. Thanks to the lid, the contents are protected from dust. White looks good on a shelf, on a sideboard or in a cupboard. Whether writing utensils, jewellery, cups, small toys or odds and ends: there are countless possibilities for what white boxes can be used for.
Athetically folded
BUNTBOX also pays attention to practical advantages during production. There are four different sizes to choose from, so that a gift is well taken care of in a big way. You can also order BUNTBOX gift boxes in white in large or small quantities. Depending on whether you need your box for private gifts or as packaging for special accessories in your shop. Sturdy, aesthetic and made of 100 percent recycled paper, white boxes with lids are perfect for giving or storing!