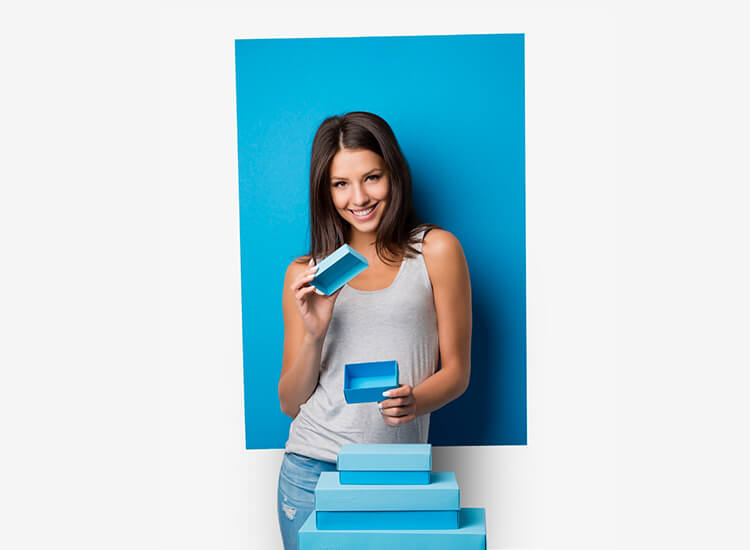 Customization of gift boxes
Our Buntbox team is also more than happy to assist you with any kind of personalizations. We will inform you about all the customization options available and offer you many ideas for your next gift box. Take a look at our range online and get inspired. Do you have any questions? Feel free to contact us, we will be happy to help you out.
Yellow boxes – friendly and inviting
What do organisation and gift wrapping have in common? You can make them both fresh and motivating. For gift boxes in yellow, 30 different solutions can be found. There are bound to be even more!
Yellow attracts attention. With a yellow box, you can set accents in the room or show someone how much you like them. Storage boxes in mustard yellow are in vogue and complete a subtle ambience in which you will feel completely at ease. Children light up when you give them a yellow cube box. You can even persuade them to clean up. Who doesn't like to put their things in a yellow storage box?
Yellow boxes in many shapes and formats
The right box for a pen? The right gift box for a piece of jewellery? Are you looking for a packaging for a gift of money or for storage boxes? We at BUNTBOX offer you yellow boxes in different formats and various shapes:
Rectangular boxes with lids
Cube boxes
Colour packs as yellow pillow boxes
Gift boxes in bag shape
Handbags in XL as funny gift boxes in handbag shape
Small school and Ü surprise bags as surprise bags
high-quality envelopes as colour mailers in cardboard quality
Yellow storage boxes set accents
Small items and valuable things need their place. Often, solutions have to be found for things with unusual formats. With the boxes from BUNTBOX you can systematically create order.
Our colourful boxes with lids and cube boxes can be stacked wonderfully. This gives you not only a perfect overview but also a lot of space on your desk, cupboard or shelf. In terms of colour, the boxes in citron or soleil can be used as eye-catchers or integrated into a discreet ambience as storage boxes in mustard yellow.
The right box for all occasions
You can order one of our gift boxes in yellow 30 times and use it to pack give-aways for your wedding. Or you can choose a gold box for a very special gift like a marriage proposal with a ring. A yellow surprise bag is a great way to congratulate someone on their first day at school. We have the right packaging for every occasion.
Versatile use and sustainability
Quality of the cardboard and high-quality workmanship distinguish the products of BUNTBOX. Best prerequisites for an upgrade after use as gift packaging or the purchase of storage costs in yellow.
With the selection of its solid material, BUNTBOX contributes to sustainability. The fresh colour underlines the idea of thoughtful design. You will see this when you hand over a gift and notice it when you stack your storage boxes.
From the yellow box to the golden box …
With the yellow boxes and cartons from BUNTBOX, the wrapping of gifts is fun. With our storage boxes, colour comes into the room and the arranging becomes a little celebration.
Sour makes merry is the motto of the lemon. If you are looking for a yellow box in bright yellow, then the BUNTBOX lemon colour is just the thing.
Beautiful like the sun. If you want the colour of the box to be a rich yellow, then it's best to order the BUNTBOX colour sun.