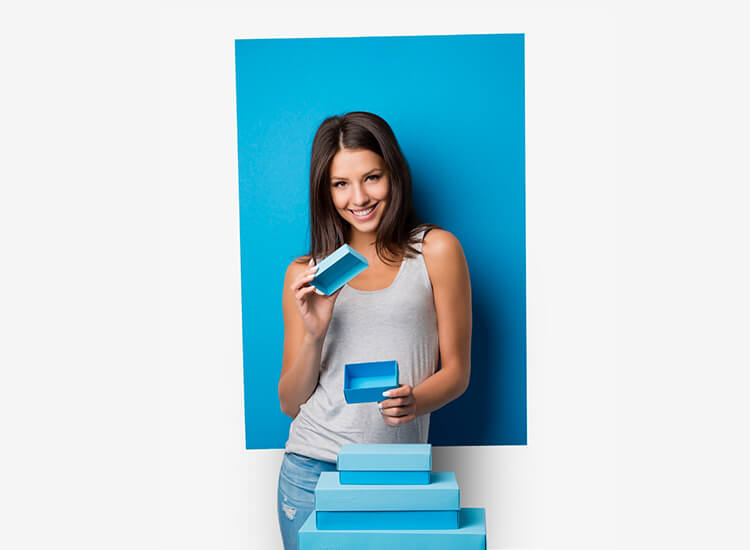 Customization of gift boxes
Our Buntbox team is also more than happy to assist you with any kind of personalizations. We will inform you about all the customization options available and offer you many ideas for your next gift box. Take a look at our range online and get inspired. Do you have any questions? Feel free to contact us, we will be happy to help you out.
There are two different sizes to choose from
When you decide on our cube box, you can choose between two sizes. Box S has a size of 5.5 cm x 5.5 cm x 5.5 cm. The M box can be filled to 9 cm x 9 cm x 9 cm. Both boxes are very robust and can be used for a wide variety of purposes. The special highlight is, of course, the design. You can choose between many different colours and give the cube box your own personal touch. But that's not all, you can even choose the individual imprint yourself.
Where can the dice box be used?
You are planning a company party and want to give your employees, business partners or customers a treat? Then you should package your promotional gifts in an appealing way. The Würfelbox could be your first choice here. You decide on the colour of your company as the basic colour. Now you can, for example, have the company logo printed on the box. Even photos or striking slogans can be immortalised on it. Thanks to the cube box, your gift will be well received and offer the recipient real added value.
Environmental protection is written in capital letters
We not only want to offer you the best quality, we also stand for sustainability. The Buntbox dice box is made exclusively from recycled cardboard. In addition, we can guarantee you short delivery times. This means that you can react quickly to short-term events. The Würfelbox cardboard can of course be closed tightly. This means that nothing gets lost and your products are optimally protected. The packaging convinces with an attractive ratio between price and performance. In addition, you save a lot of time because wrapping the gifts is easy.
Ideal for special events
The attractive cube box is a real eye-catcher and is therefore ideal for weddings or summer parties. Nice gifts are also in demand at Christmas. When these are presented in the high-quality dice box, no wishes are left unfulfilled. The Würfelbox cardboard box "Made in Germany" is a real quality piece of work and you should take advantage of the opportunity to personalise it.
Ordering works online
If you decide to use our Würfelbox cardboard box, you can process the order completely online. First of all, you have to decide on a size and select the box in the desired colour. Then you can upload the design with the configurator provided for this purpose. Even before you have the box in your hands, you can take a look at the design. Your ideas are immediately implemented virtually, allowing you to order exactly the box that meets your expectations in all areas.
Which products fit into the box?
There are many products that can be stored in the box. These include, for example, cosmetics, sweets and jewellery. By the way, the cubes themselves cut a good figure as storage boxes. You can stack the cubes on top of each other and store all kinds of toys in them, for example. In short, the boxes in the shape of cubes leave no questions unanswered.</p