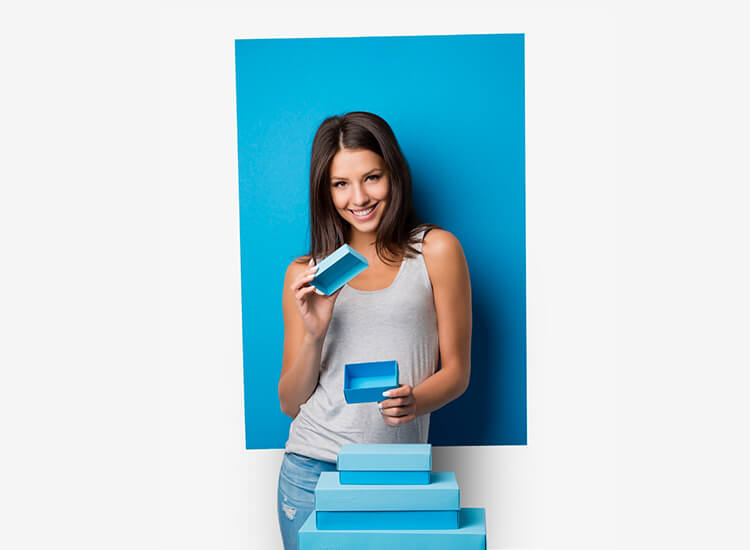 Customization of gift boxes
Our Buntbox team is also more than happy to assist you with any kind of personalizations. We will inform you about all the customization options available and offer you many ideas for your next gift box. Take a look at our range online and get inspired. Do you have any questions? Feel free to contact us, we will be happy to help you out.
Flat boxes from Buntbox: just right for a unique gift
Buntbox gift boxes are as individual as your gift and can be personalised in many different ways. This makes gift giving even more fun. Buntbox flat boxes are made in Germany under the highest quality standards, are glue-free and get their stability from the administration alone. They are made of recycled, recycled and 350 g/m strong fine cardboard. All cardboard elements are approx. 0.5 mm thick, so they can withstand a lot, but are neither too heavy nor too fine. There are plenty of occasions for giving gifts, but giving gifts has to be learned. With an attractive gift, you show your appreciation for the recipient and your taste. If you do it right, your gift will already enchant with its packaging. It should be a real eye-catcher, but also show how much care you have put into the choice of gift and packaging. A creative gift box arouses curiosity and shows that you have put a lot of thought into the gift. Of course, an atmospherically designed flat box also goes down well, for example at Christmas or for a confirmation. Other typical occasions are communion, wedding, birth of a new baby and christening, university graduation, birthday or an anniversary. Especially for big family celebrations such as weddings, christenings and confirmations, people like to give gifts of money or vouchers. Simply presenting a gift voucher in an envelope is very common, but boring and often inappropriate. It would be much nicer to put it in a box with a small addition. The lids and sides of our flat boxes leave you plenty of room for creativity, so you can easily have them printed with an appropriate slogan for the party. Can't think of an original design to personalise your gift box with? Then let our qualified staff advise you. The Buntbox team is happy to support you in the realisation of your ideas, because they know exactly what is possible and what is important in detail when customising a flat box.
Gift boxes from Buntbox: the perfect solution for all kinds of gifts
Even flat gift boxes can be like looking for a needle in a haystack elsewhere. Buntbox finally puts an end to the search, because here you can find flat boxes in every conceivable size. You can order your box in the format of your choice online for as little as one piece. Of course, the higher the number of pieces, the lower the price. If you give away a lot, it is definitely worth ordering a larger quantity of flat boxes. Then you always have a supply and don't have to worry about the safe packaging of your gift. The classic gift box consists of a base and a matching lid. A flat box is ideal for sending or giving laundry, a nice scarf, a tie or light decorative items. Our boxes are available in beautiful basic colours, and you can also have them printed with your favourite design or logo. This makes your gift even more personal.