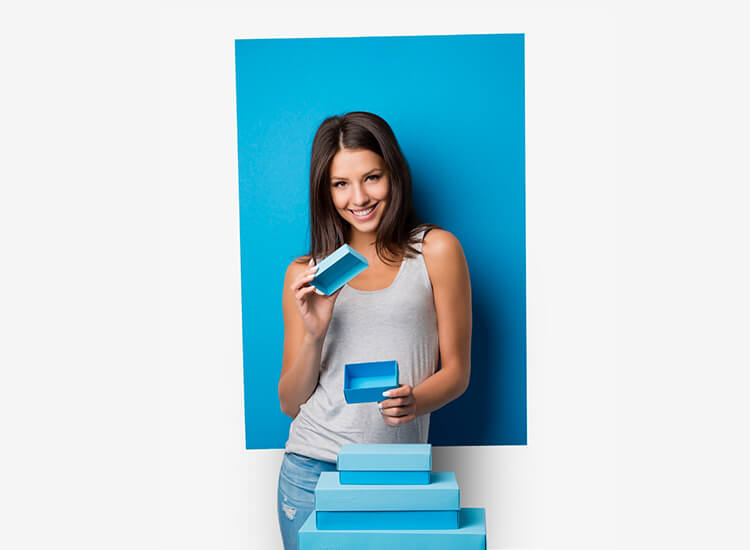 Customization of gift boxes
Our Buntbox team is also more than happy to assist you with any kind of personalizations. We will inform you about all the customization options available and offer you many ideas for your next gift box. Take a look at our range online and get inspired. Do you have any questions? Feel free to contact us, we will be happy to help you out.
Buy paper boxes – what sizes and shapes are available?
You can choose between different versions depending on your needs:
Wähle your BUNTBOX as a box with a separate lid. Not only can you combine 24 different colours as you wish, but you can also choose between sizes S, M, L and XL.
With the BUNTBOX Colour Cube, you get a gift box with an integrated lid and side flaps. This version is available in two different sizes and all 24 BUNTBOX colours.
The BUNTBOX Colour Pack convinces with an aesthetic cushion shape and is especially suitable for soft or small-sized gifts. Here, too, you can choose between 24 colours and two different sizes.
The BUNTBOX Colour Bag cardboard bag looks like a small shopping bag and is available in eight different colours.
Extra large; and particularly impressive is the BUNTBOX Handbag cardboard handbag, which is also available in eight colours.
In six different colours, the BUNTBOX Surprise Bag is available. It looks like a small school bag and offers an attractive way to tastefully present small surprises.
The BUNTBOX Colour Mailer cardboard envelope in A4+ format is available in all 24 BUNTBOX colours and is ideal for presenting gift vouchers, photos and other paper presents.
As the ideal basis for individual works of art, we recommend the BUNTBOX Frame cardboard canvas, which is available in A5+ format.
You haven't found the right BUNTBOX yet? No problem: Simply use our practical BUNTBOX Maker to create a variant that corresponds exactly to your ideas!
How are the paper boxes printed?
All BUNTBOX paper boxes can be designed into unique works of art with felt-tip pens, coloured pencils, stickers and a lot of love and imagination. If you prefer a professional customisation, we are happy to help you. Simply use our print templates, place a logo, your name and pictures or graphics according to your wishes and upload the result. In just a few days you will have your personalised paper box in your hands. For a particularly representative result, we also offer you the option of foil embossing, which allows you to achieve an exceptionally elegant look.
What are the advantages of paper gift boxes?
In addition to a wide range of customisation options, paper boxes are particularly impressive because of their sustainability. In contrast to conventional wrapping paper, they are readily stored and reused. If you decide to buy paper boxes, you will be making a significant contribution to waste reduction. Depending on the type and size, the boxes can also serve as small storage boxes, which is why they are very popular in many households. If you have your logo printed on them, you gain a permanent advertising space that helps to strengthen your brand.