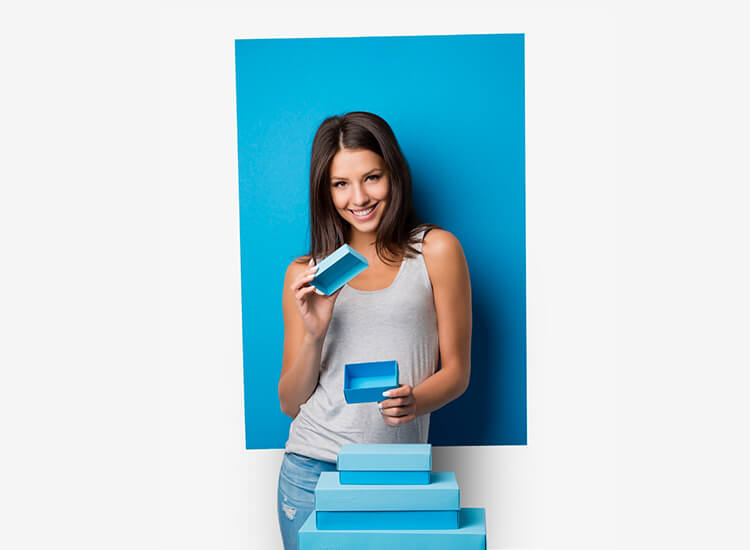 Customization of gift boxes
Our Buntbox team is also more than happy to assist you with any kind of personalizations. We will inform you about all the customization options available and offer you many ideas for your next gift box. Take a look at our range online and get inspired. Do you have any questions? Feel free to contact us, we will be happy to help you out.
What makes our cardboard in DIN A5 format special?
Our products differ significantly from the competition, as we give you a free hand in terms of design. Whether it's the colour scheme, the closure options or the individual print, we give you every conceivable option for customising your desired box in DIN A5 format.
What can be customised?
In our configurator, you can not only select the size and dimensions of the box you want, but we also provide you with the necessary tools to freely select the colour of the box as well as the print motifs. Simply upload the logo or image you want and use it directly to have it printed on the box.
DIN A5 format box with lid as gift packaging
Our customisation options allow you to design the box as a decorative object at the same time. If you want to wrap a gift in a particularly original way, you can also use our sturdy boxes in DIN A5. Simply have the DIN A5 lidded cardboard box printed with a beautiful motif and ensure that the recipient is particularly pleased with your gesture.
How can an DIN A5 lidded cardboard box be used in private use?
In private use, our DIN A5 cardboard box cuts a good figure in the household. The box is particularly suitable as a storage place for easily lost objects or for storing all kinds of jewellery. As a cardboard box with a lid in DIN A5 format, the box can also be closed, which is particularly useful for silver jewellery, as silver is susceptible to both light and oxygen. Photographs can also be stored excellently in the box, as they are also protected from harmful light.
Also excellently suited for the office
Paper in DIN A5 format is regularly used for notes in everyday Büro life. Anyone who works in a business knows how important it is to keep things tidy. The notes of the last meeting or important appointments are regularly written on such slips of paper, which is why keeping them safe can be of utmost importance. In order to be able to store appropriately prepared notes in a sorted and orderly manner, a box in DIN A5 is also ideal for the Büro to make everyday life easier.
Environmental protection is close to our hearts
We attach great importance to the sustainability and recyclability of our products. That is why our boxes are made exclusively from cardboard boxes, which are made exclusively from recycled paper. In this way we can guarantee that our products can be disposed of or recycled without any problems and without a negative CO2 impact. Furthermore, our production takes place exclusively on German soil and is completely ecologically safe.
Were we able to convince you of our product?
If we have managed to arouse your interest in our high-quality and stable natural products, then you can contact us at any time. If you have any questions regarding an order, we will be happy to help you at any time. We look forward to hearing from you.