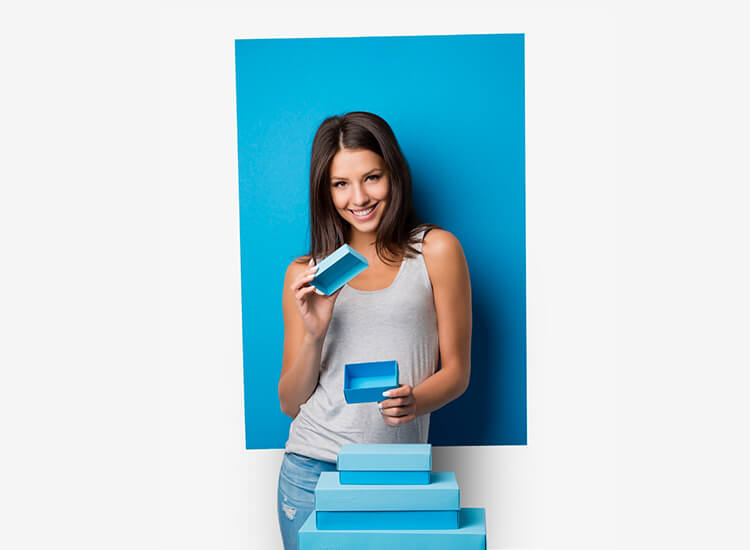 Customization of gift boxes
Our Buntbox team is also more than happy to assist you with any kind of personalizations. We will inform you about all the customization options available and offer you many ideas for your next gift box. Take a look at our range online and get inspired. Do you have any questions? Feel free to contact us, we will be happy to help you out.
We stand out from the crowd - Our configurator leaves nothing to be desired
What you use your DIN A6 box for is entirely up to you. What we also leave up to you is the free design of the product you want. Choose from a wide range of colours and let yourself be impressed by our dyed fine cardboard, which radiates the colours particularly intensively. If you need a particularly individual box in DIN A6, you can simply upload a picture, photo or logo in the print configurator. You then place your motif in the desired position and we guarantee the best print quality when applying the motif. This way you can give the box your personal touch.
Ideal for everyday business
Paper in DIN A6 format is regularly used for notes. This format is particularly useful for memorising important information about the next appointment or the last meeting. However, in order to keep a large number of these notes tidy at the same time, they should be stored in an appropriate place. Because everyone knows that disorder has no place in everyday life. This is where our A6 cardboard box comes into play, which is perfectly tailored to the notes. Of course, you can also store other items in the box, such as paper clips or pens, which are also suitable contents for our boxes.
Also ideal for private use
Outside the office, a DIN A6 box is perfect for storing smaller items that tend to get lost. Especially jewellery that is sensitive to light can be stored in one of our boxes, as they can be closed with a lid. Silver jewellery is particularly suitable, as it is very susceptible to staining when exposed to too much light. At the same time, thanks to our configurator, you can customise the DIN A6 box and turn its small storage space into a decorative object at the same time. Let your creativity run free and put together your own box for the home.
A perfect gift packaging
A nice gift is enhanced by a suitable packaging. Our boxes in DIN A6 are customisable with our BUNTBOX configurator so that individual gift wrapping becomes one of the easiest übungen. Smaller gifts can easily be packed in the sturdy DIN A6 cardboard box and presented with a great motif tailored to the recipient. One idea would be to print a picture together with the recipient.
As a German company, we attach great importance to environmental compatibility
Our high-quality products are environmentally friendly and easy to reuse. As our boxes are made from 100 percent recycled paper, they are öecologically harmless. The natural product, which is exclusively manufactured in Germany, thus guarantees you as a customer environmental compatibility and sustainability.
We are always at your side with advice
As you can see, there are several possible uses for one of our boxes. If you are interested in one of our products, have any questions about the configurator or the sustainability of our products, please feel free to contact us at any time.