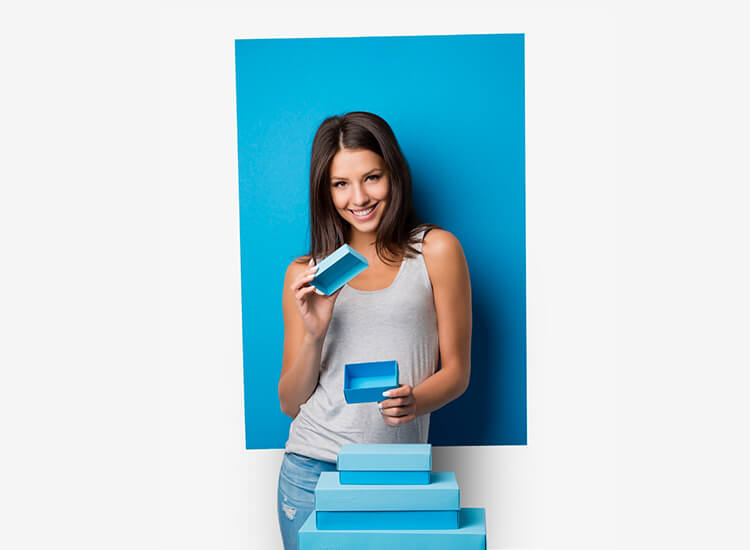 Customization of gift boxes
Our Buntbox team is also more than happy to assist you with any kind of personalizations. We will inform you about all the customization options available and offer you many ideas for your next gift box. Take a look at our range online and get inspired. Do you have any questions? Feel free to contact us, we will be happy to help you out.
The unique selling point individuality - put together your box the way you want it
As the name suggests, our card index box in DIN A8 can primarily be used for index cards. For many decades, index cards have established themselves as a useful aid in everyday life or at work, which is why an appropriate place to store them should not be neglected. Our card index box in DIN A8 can be designed as individually as you can imagine. Our configurator offers you almost every possibility to customise the cardboard box in DIN A8 with patterns, pictures and logos. Simply upload the desired motif to our configurator and then select the size and position of the print motif on the DIN A8 card index box. Our fine cardboard, which is made exclusively from environmentally friendly recycled paper, also absorbs colours excellently. We offer a wide range of colours for our boxes, which have a particularly strong effect on our material. As a print motif for a company, for example, the company logo would be suitable. If you would like to order the index card box in A8 as packaging for a gift, you could, for example, have the recipient's favourite picture printed on the box. In this way, we guarantee you an individual and original gift that is sure to please.
What is the index card box in DIN A8 suitable for?
As already mentioned, you can use the box in the office, but also in your own four walls. In the office, index cards can be used as reminders for the next meeting or important deadlines. To keep them organised and safe, the flashcard box in DIN A8 can be closed. However, you can of course also use the useful flashcards for private use. For example, you can write kitchen recipes on the cards and then store them in the flashcard box in DIN A8 to ensure that your recipes are kept in a fixed place at all times. Of course, you can also use the DIN A8 flashcard box to store other items such as jewellery if you wish. Our thick cardboard guarantees safety and provides sufficient protection with the correspondingly thick lid.
We place particular emphasis on recyclability and environmental compatibility
Since we only have our earth once, we must all do our part to preserve it. We at BUNTBOX make sure that our products, including the card index box in DIN A8, are made of 100 percent recycled paper. We as a company set ourselves the standard of producing in a very environmentally friendly and ecologically sound way, which is why we only use natural products in our products. In order to avoid environmentally harmful supply chains such as aeroplanes or ships, our boxes are produced exclusively in Germany.
Do you have any questions? Contact us!
If you are interested in our wide range of products, please feel free to contact us at any time. If you have any questions about our products and materials, you can also contact us
.