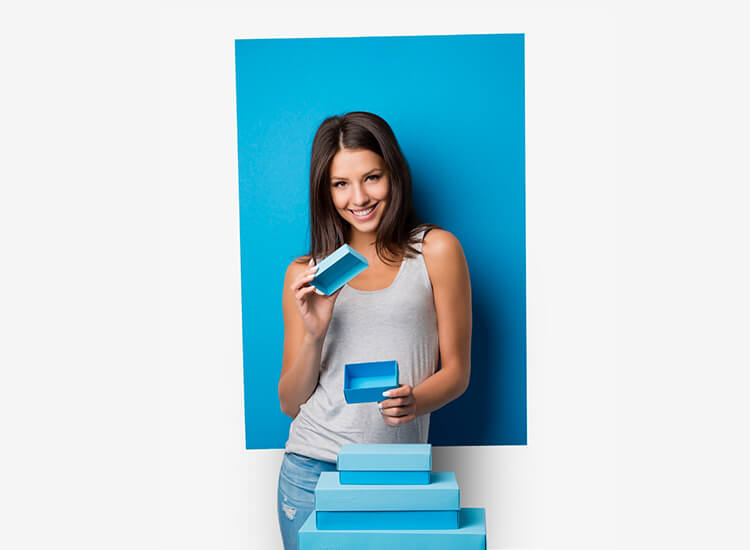 Customization of gift boxes
Our Buntbox team is also more than happy to assist you with any kind of personalizations. We will inform you about all the customization options available and offer you many ideas for your next gift box. Take a look at our range online and get inspired. Do you have any questions? Feel free to contact us, we will be happy to help you out.
Each artist needs at least one box for paintbrushes
An artist can never have enough paintbrushes, pencils, paintbrushes and other creative utensils to keep her ideas flowing. So it's no wonder that they have a permanent need for materials and also need many different boxes as craft boxes. Only then can they realise their ideas as they have imagined them. It is only logical that a surprise gift with handicraft or painting utensils always goes down well with creative people. As a rule, imaginative people also appreciate unusual packaging, because they love something special. Whether it's paper, markers or brushes, with our beautiful gift boxes you can put your gift in the limelight and be sure that it will be well protected. For very high-quality gifts such as hand-lettering or calligraphy sets, our box-shaped Buntbox is ideal. It also has the advantage that it can be used as a storage box after unpacking. So you can kill two birds with one stone.
Buntbox: the perfect box for brushes or craft projects
Whether it's a hobby or a profession, if you really want to make an artist happy, then don't just give brushes and the like as a birthday or Christmas present, but also out of the ordinary. The ideal packaging for a carefully selected gift is our beautiful brush box, which you can find at Buntbox in almost every size. You can also buy them in many different colours.
Top gift idea: A brush box for delicate brushes
Whether it's a birthday, Father's Day, Mother's Day, Valentine's Day, an anniversary, the start of school, Easter or Christmas – the occasion is not the most important thing, what matters is the contents and the right packaging. Gift boxes for artistic hobbies are an investment in the development of the artist, who now has even more opportunity for their creative realisation. With each brush box you can give joy to friends, family and colleagues. Our gift box or craft box is fun to look at. Imagine the enthusiasm on the faces of the recipients when they open the box of paintbrushes. You are giving a gift with added value, a gift that is guaranteed not to lie carelessly in the corner. With the new brushes, pencils or painting pads, they can get started immediately and creatively implement their ideas.
Craft box: perfect packaging for joyful surprises
Each craft box from Buntbox is made of high-quality, sturdy cardboard, so that your gift can be safely transported from A to B in it. It is environmentally friendly, recyclable and we deliver as little as one piece. However, we recommend that you order a larger number of boxes, because they are flat when delivered, so they can be stored easily. When you need them, just take them out and fold them up. It's very easy. The surprise is even nicer when you present your gift in person, face to face.
By the way, you can make every craft box or brush box even more personal with individual printing or embossing. Just ask, we'll be happy to advise you.