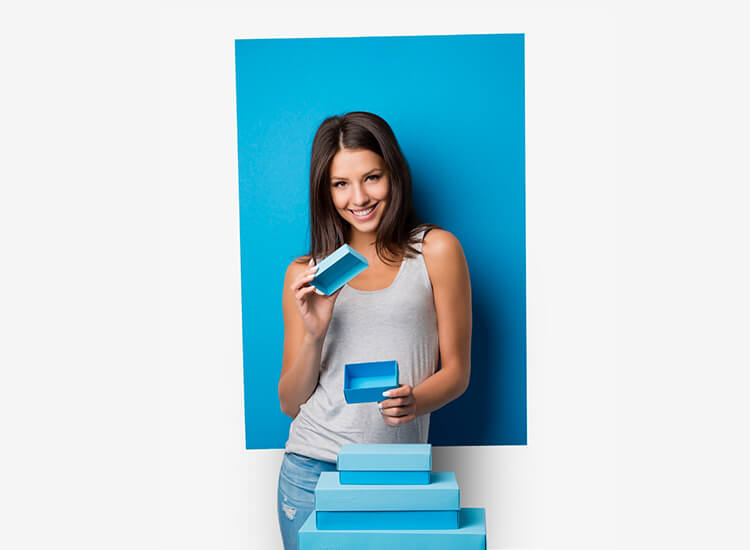 Customization of gift boxes
Our Buntbox team is also more than happy to assist you with any kind of personalizations. We will inform you about all the customization options available and offer you many ideas for your next gift box. Take a look at our range online and get inspired. Do you have any questions? Feel free to contact us, we will be happy to help you out.
What should a good gift box for books look like?
The perfect gift packaging for a book should, of course, be sturdy. In addition to the right size, it should also have the right shape. Whether it is a simple box or even a special box in the shape of a book is entirely up to you. You should always choose the design according to your mood. Today you can find the ideal gift packaging for Bücher in no time at all, because the choice couldn't be bigger.
Get the right gift packaging for your book
Only the right book box can make your gift perfect, because it gives you the opportunity to wrap your book in the right way. Book gift packaging ensures that the selected copy can be optimally embedded and also has the advantage that you do not immediately reveal what the gift is. Every gift wrapping should be as unique as the book itself. If necessary, you can choose a nice paper and wrap the box itself in it. The box makes the contents a secret and arouses the curiosity of the recipient a little more.
Find book boxes in different designs
Book boxes are available in different designs and sizes, so that your chosen book actually fits into the chosen gift packaging. The high quality book gift boxes are made of strong paper and are therefore biodegradable. The packaging is therefore environmentally friendly and has the advantage that it can be used again and again. Ultimately, this is also good for the wallet. In addition, the boxes are very suitable for storing other items or utensils when they have fulfilled their actual purpose. The matching book box for books also makes packing a breeze. In just a few simple steps, you'll be able to present an optimal gift that always has the perfect shape.
Gift packaging for books with a difference
Are you looking for a very special book box for books? Then you have the option of choosing a box in the shape of a book. This is particularly popular and original. The book-shaped box is the ideal book gift packaging if you don't want it to be a secret that there is a book in the packaging. The idea of giving a book in a book form is something that is not common. Of course, you can also package other presents in an original way and give them as gifts. There are no limits to your imagination.