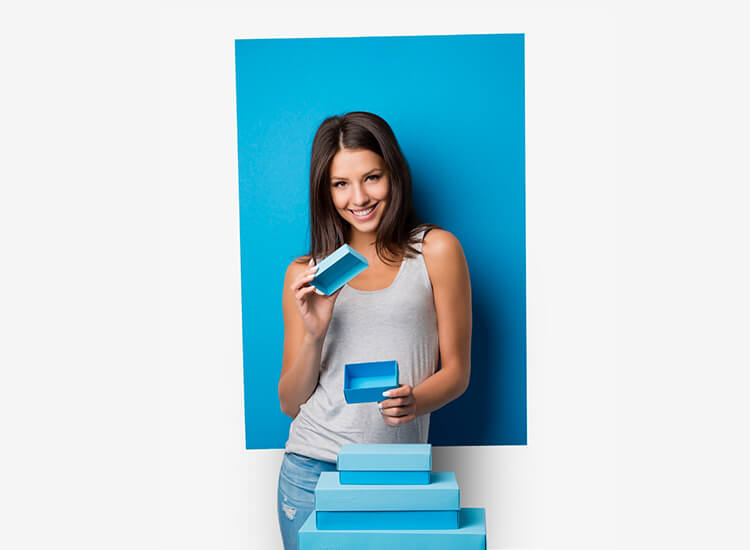 Customization of gift boxes
Our Buntbox team is also more than happy to assist you with any kind of personalizations. We will inform you about all the customization options available and offer you many ideas for your next gift box. Take a look at our range online and get inspired. Do you have any questions? Feel free to contact us, we will be happy to help you out.
These gifts come from the heart
Jewellery in particular is a very high-quality and personal gift; personal gift. So it's no wonder that attention to detail should be paid when choosing the packaging. You want to give a jewellery gift to a loved one? Then our jewellery gift box is just the thing for you. The gift box for jewellery is available in different sizes and shapes. Whether as a classic box or a handle bag, the gift box for jewellery is always well received. But which jewellery is suitable for the boxes? The possibilities are endless and you can, for example, pack
+ necklaces
+ earrings
+ bracelets
+ watches
+ rings
in our jewellery boxes. As a gift box for a necklace, the sustainable case is just as much in demand as a bracelet gift box. You can also design the gift box for jewellery online and order it directly.
Communicate a message with the gift box for jewellery
If you want to tell someone how much you love them with a high-quality gift, then jewellery gifts are of course perfect for this. Our jewellery gift box makes for an appealing package. Special cases are in demand and if you are looking for a gift box for a necklace or a bracelet gift box, then we have the right models for you. The ordering process is very simple. First of all, you choose the boxes you want. Then you choose the basic colour. This is also of the highest quality and convinces with its luminosity. Now it becomes even more personal. You upload the desired motif for your box and the configurator already shows you how the jewellery box will look later. Once you have sent your order, it will arrive soon. We produce "Made in Germany" and therefore you can enjoy short delivery times.
A sustainable jewellery case
Our gift packaging for jewellery is not made of plastic. On the contrary, with our gift box for jewellery you make an important contribution to environmental protection. The gift box for jewellery from Buntbox is made entirely from recycled cardboard. This is sustainable and the quality will convince you. The short delivery routes also save important resources. If you want to give someone a special treat, then you should choose our box.
For what occasion do you need the jewellery gift box?
You can present our gift box for jewellery on the most diverse occasions. How about a christening? Here you could use the gift box for a necklace. After all, personal jewellery requires an appealing presentation. The box is also a great wedding gift, as you can place the wedding rings in it. If you are giving jewellery as a birthday present, then your gift should also be placed in a matching case. Just try it out and design your own cases in the future. The jewellery case from Buntbox takes a completely different approach and is very popular.