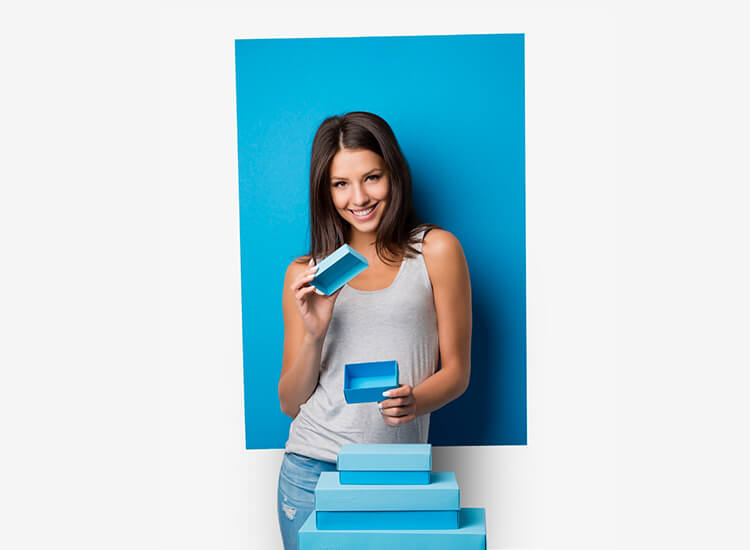 Customization of gift boxes
Our Buntbox team is also more than happy to assist you with any kind of personalizations. We will inform you about all the customization options available and offer you many ideas for your next gift box. Take a look at our range online and get inspired. Do you have any questions? Feel free to contact us, we will be happy to help you out.
Promo ideas, that reflect your company
Before you decide on promo items, you should think about what suits your company. Do you sell high-tech items, home & garden products, car accessories, clothing, travel, sports and leisure items or health & beauty products? The focus is particularly on sustainable products. More and more consumers are focusing on recyclable products, fair trade or organic goods. What could be more appropriate than packaging such products in a promo box made of recycled materials?
Promo ideas for high-tech and sustainability
High-tech and sustainability are not mutually exclusive. Package your products in a stylish sustainable promo box. Here are some great promo ideas:
Bluetooth Speaker Bamboo
Inductive Powerbank Bamboo
Inductive Charging Station made of Wheat Straw and ABS
Wireless Headphone made of Bamboo and Recycled PET
Alarm Clock with Wireless Charger made of Bamboo
6-in-1 Retractable Cable made of Recycled Plastic
Sport, leisure and Büro products matching promo ideas
If sport and leisure products are part of your portfolio, the following sustainable items will fit the bill. These promo gifts are also perfect for Büro, especially a lunch box, water bottle or a sustainable coffee mug. The promotional items look particularly nice in an attractive cardboard bag or in a personalised colourful box:
Jute carrier bag
Sports bottle made of glass with wooden lid
Stainless steel lunch box with bamboo lid
Bamboo drinking straw set
PLA coffee mug
Fruit and vegetable nets made of Öko cotton
Embroider made of recycled PET plastic
More promo ideas for your advertising presence
Of course, classic promo gifts still go down well with your customers. With these gifts, the slightly different packaging is particularly important; in a box, your promo item stands out from the competition. Smaller gifts fit into colourful pillow boxes. Here are some promo ideas that will help you:
Pens and pens
Bottle openers
Key holders and keys
Fan items
Backs
Mugs & mugs
precious wines or spirits
delicatessen items
toy items
Whichever promo box you choose, place your name and logo clearly visible on the box, cardboard bag or pillow box. Promotional items should make your company or brand known. You can do this particularly well with a beautiful box that bears your name and company logo. A high-quality gift box will always find a useful use in the home or office.