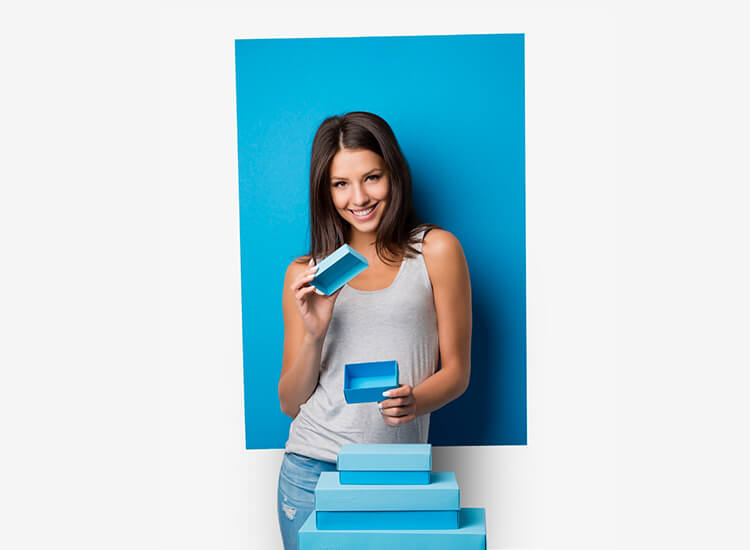 Customization of gift boxes
Our Buntbox team is also more than happy to assist you with any kind of personalizations. We will inform you about all the customization options available and offer you many ideas for your next gift box. Take a look at our range online and get inspired. Do you have any questions? Feel free to contact us, we will be happy to help you out.
The voucher as the perfect gift in cardboard and paper packaging
In recent years, a trend for voucher gifts has emerged to which the market has responded. Accordingly, there are numerous offers that give pleasure and are perfectly suitable as a gift. From simple books vouchers to travel offers and shopping vouchers, concert and experience vouchers are also in demand.
A balloon ride, a candlelight dinner, a wellness weekend or a musical ticket, the offers are varied and exclusive. Give your loved ones a treat with matching gift vouchers in a decorative voucher box or in a voucher box. This is possible for all occasions, such as birthdays, weddings, Christmas or anniversaries.
Packaging money beautifully – this is how it works:
If people are honest, they are often more pleased with a gift of money than with a gift in kind with which they can do little. Money allows you to choose a gift according to your own taste or to buy certain things that you need or would like. Money gifts are common in many families, for example for birthdays, engagements and weddings, christenings and confirmations. No one simply hands out a few notes to the other person. Instead, the money is better off in attractive paper packaging, in voucher boxes or in a voucher box and does not look so clumsy when presented. Although everyone wants to have money and give money as a gift, the packaging must also be appropriate for the occasion. Like vouchers, gifts of money in gift wrapping vouchers are elegantly and opaquely packaged and make the handing over of the gift much easier.
Original gift ideas – concert tickets, shopping, food and travel vouchers
Vouchers are often a good idea for music events, which can be optimally presented in the gift box for vouchers. The selection of concert tickets is huge, whether for musicals, live concerts, music events, theatre or opera. With the gift voucher box, you can please almost anyone without missing the mark with your gift. The gift voucher packaging ensures the elegant storage of the cards and underlines the quality of the contents in gift voucher boxes with coloured accents or with simple envelopes and gift voucher boxes.

The gift voucher box is also a nice gesture for travel gifts. A relaxing wellness weekend, a city break or a short trip in voucher boxes provides surprise and joy. Experience and shopping vouchers are generally popular and are offered in many areas, both in retail and in online shops. Bücher, clothing, electrical appliances or furniture are often a little cheaper with the voucher and can be packaged as a gift voucher.
The gift voucher works like this:
Vouchers in paper packaging are well received. There are also more creative and original ideas so that the recipient doesn't immediately know what it is. A simple envelope is easy to see through and everyone knows that it contains either a card, a gift or a banknote. More elegant is the cardboard box or the gift box voucher with a fancy design. Money can be presented beautifully in a gift box with a piggy bank or coins. Voucher gift wrapping is much more attractive in a colourful cardboard box. The Colour Packs voucher box;from BUNTBOX allow a versatile choice with style and pizzazz.
The gift box for vouchers in a large selection
You can wrap your voucher gift by choosing a special gift box for vouchers or a gift box for voucher cards. The coloured gift box voucher is one of the best sellers at BUNTBOX. Especially gifts of money and vouchers should be packed elegantly and discreetly, but their value should still be recognisable. The content of the gift box for vouchers is usually much more valuable than a gift in kind, especially for concert tickets or trips, but remains a challenge for the skilful handing over. Of course, gift wrapping for vouchers is also creative as an addition to flowers, chocolates or book gifts. The colourful and stylishly labelled voucher box is eye-catching and mysterious at the same time.