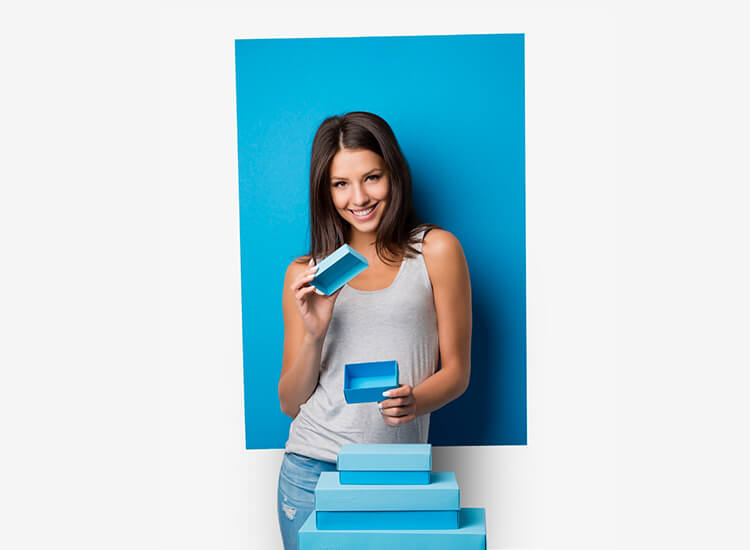 Customization of gift boxes
Our Buntbox team is also more than happy to assist you with any kind of personalizations. We will inform you about all the customization options available and offer you many ideas for your next gift box. Take a look at our range online and get inspired. Do you have any questions? Feel free to contact us, we will be happy to help you out.
This is the perfect way to give bags
The decorative bag box is ideal for presents that are not so easy to wrap in wrapping paper. Anything that doesn't have a clear shape is difficult to wrap in the usual way. It is best to choose an additional packaging that has a clear shape. A box from BuntBOX is perfect for this. A bag box not only shines with its beautiful colour, it also protects your gift and is easy to transport. Of course, you can also personalise the pocket box. Personalise the lid with a slogan, your name or a logo; the recipient of the handbag box is guaranteed to remember you fondly.
Great promotion: give away bags with promotional gifts
The BUNTBOX gift boxes are also perfect for this, because we offer them in many different sizes. Keys, wallets, USB sticks, folded gym bags, headbands and many other types of promotional gifts can be packed in an original way. Of course, bags are also in good hands here, for example printed jute bags with your company logo. If you choose a bright colour for your box bags, they will be particularly eye-catching. How about a refreshing pink, turquoise or yellow? You really are spoilt for choice when it comes to colours, because almost any colour is possible.
Which bag should it be?
Women can never have enough bags, can they? Maybe you have a friend, a sister, a cousin or a colleague at work, or maybe it's your mother whom you would like to give an unusual treat with a bag? No matter who you give the bag to, the gift will be even more representative if you give it in a special box for bags. Whatever kind of bag it is – chic leather backpack, leisure bag for sports or elegant briefcase for the opera – we at BUNTBOX have the right bag box for every model. Regardless of the format and purpose of the gift, presenting it in a decorative box naturally arouses curiosity. Nobody knows what is really hidden in the box. The surprise is all the greater when the bag lies in all its glory in front of the recipient. Hooray, you did everything right!
Configure a box bag according to your needs
Giving bags as gifts has never been easier than with BUNTBOX. We have more than 1000 boxes in all shapes and sizes for you to choose from. It would be a miracle if we didn't have the right box for you. Online you have the possibility to configure your handbag box according to your wishes. Simply choose the right format, the cardboard, the desired shape and finally the colour of your choice; in addition, you can also have it printed. On a fully coloured box for bags you can achieve fascinating effects with a different colour print. Let your imagination run wild here. You won't believe what is possible. Of course, we also have ready-made gift boxes in stock and can ship them for as little as one piece. So you take no risk at all.