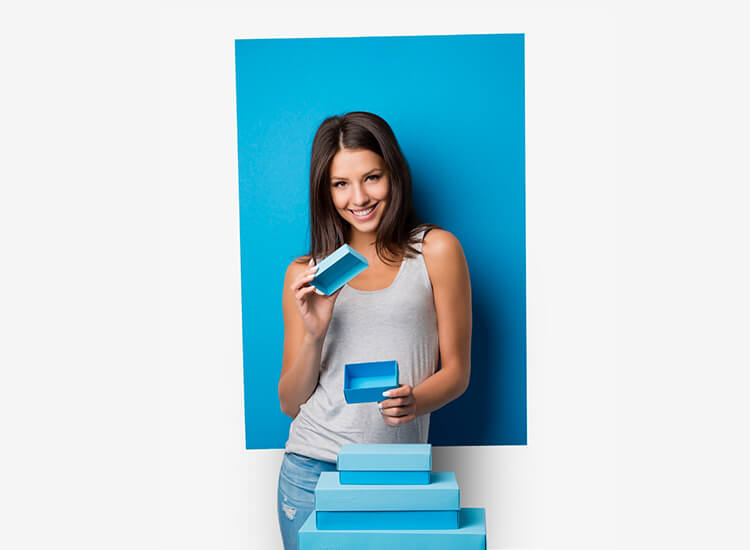 Customization of gift boxes
Our Buntbox team is also more than happy to assist you with any kind of personalizations. We will inform you about all the customization options available and offer you many ideas for your next gift box. Take a look at our range online and get inspired. Do you have any questions? Feel free to contact us, we will be happy to help you out.
Which Buntbox for which clothes?
The small clothing boxes are ideal for giving away lingerie as a surprise for your loved one. For gentlemen who love ties, the tie box is the perfect place for the tie to be given as a gift. Gloves and socks or gauntlets or chic hats for the colder season are also neatly packed inside.
A clothes box in a medium size will be loved by anyone who wants to present a sporty or elegant jumper, jumper or blouse as a gift. This way, even unpacking becomes a surprise act that everyone will remember.
The clothes boxes in medium size are also ideal for giving away baby or children's clothes. Just watch with joy as the creative box for clothes is opened and the eyes light up.
The large clothing boxes are ideal for giving a desired jacket or even several items of clothing. On the other hand, a large clothing box can also hold a pair of shoes or ankle boots.
What makes the boxes from Buntbox special?
The storage boxes for clothes are made of high-quality material, designed for durability and thus ideally suited for versatile use afterwards. So not only the clothes given away in the clothes box, but also the Buntbox will be remembered for a long time by the person who was surprised with this clothes box.
In addition, the storage boxes for clothes are characterised by aäußerst decorative design with funny pictures that are second to none. And because sustainability is in vogue, it is more than "just" sustainable to give away clothes in storage boxes .
This trend not only benefits the environment because the Buntbox boxes are not a short-lived disposable item. Rather, they are often reused as organisational aids on shelves, cupboards and drawers. Finally, the recipients also say. "These clothes boxes are far too valuable and far too chic not to continue using them". Boxes for clothes are also often used for other purposes in the long term. The smaller boxes are often used for jewellery, watches and glasses.
The medium-sized box for clothes is an eye-catcher on the dresser or shelf for the recipient. For its further use under decorative aspects, there are actually no creative limits to the imagination. And many women and men appreciate this in addition to the ingenious packaging idea.
The tie box with its decorative design is used with pleasure and for a long time, so that it is not found again later in some drawer. According to the motto: A long-standing problem has finally disappeared in a simple but stylish way.
With these numerous advantages, it is great fun to give away clothes in storage boxes from Buntbox.