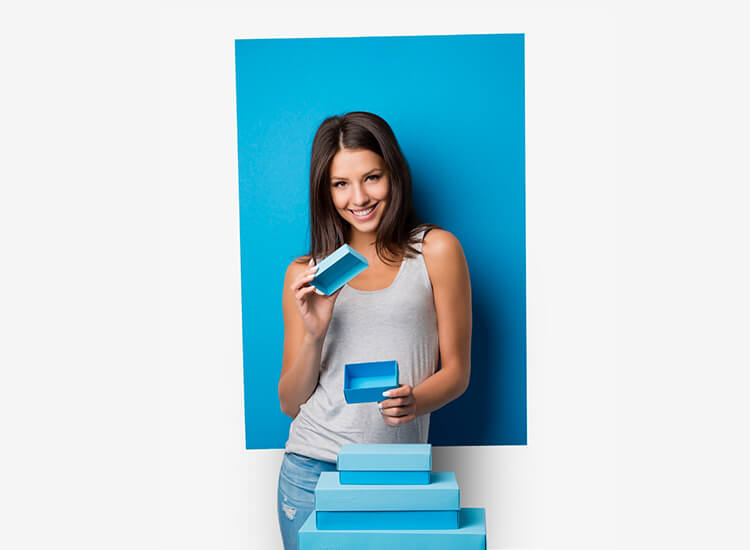 Customization of gift boxes
Our Buntbox team is also more than happy to assist you with any kind of personalizations. We will inform you about all the customization options available and offer you many ideas for your next gift box. Take a look at our range online and get inspired. Do you have any questions? Feel free to contact us, we will be happy to help you out.
The coffee gift box for the stylish prü for the stylish gift
Beaming lovers are always happy to receive fine coffee beans as a gift. In general, gifts of this kind are popular, whether as a gift, as a cup, as a coffee set or with matching accessories. Many people celebrate coffee drinking and attach importance to high-quality varieties that are freshly ground. Espresso, along with cappuccino and latte macchiato, is not only popular in cafés and bars. Espresso machines and fully automatic machines make it possible to prepare espresso at home to a high standard. Selected coffee grounds not only provide the delicious aroma when freshly ground, but also contain valuable ingredients that unfold when brewed. The coffee gift box makes it possible to package the valuable coffee beans in an elegant way.
A safe coffee storage for the noble Röstung or for capsules
To store coffee beans without them losing their aroma and valuable ingredients too quickly, a cardboard box with a lid is a good choice. This creates the best conditions for storing coffee in a dark and dry place. BUNTBOX offers them in an airtight version for the cupboard. It is important to protect the beans from air and moisture so that the aroma is preserved. Under no circumstances should coffee be stored near spices or in the refrigerator.

Coffee capsules are somewhat easier to store than whole coffee beans. They come in several varieties and flavours. Coffee storage is easier if you keep the capsules in a box and have them to hand at all times. The fully-automatic coffee capsules also make an excellent gift box. They offer a delicious and full-bodied coffee portion per cup and are now in no way inferior to the regular beans.
A box of tea or the tea gift box
Tea is healthy and belongs to the ancient medicinal plants with calming and stimulating effects. Tea can be bought in tea bags for easy use or in loose tea leaves that are then brewed with a strainer or tea egg. Popular varieties include Darjeeling, Oolong, green tea, Earl Grey, Matcha and various herbs, spices and fruits. The healthy infusion is also perfect as a gift, e.g. as a tea set with pot, glasses and tea varieties. The suitable tea storage box makes it possible to present the tea set in style. A tea box is ideal for loose leaves that can then be freshly brewed.
Gift box coffee or gift box tea
Which hot beverage you prefer or would like to give as a gift is, of course, up to you. A box of tea can be enhanced with attractive and exquisite packaging, while the contents of the box are the real prize. Alternatively, BUNTBOX also offers the tea bag box for trying out certain or different varieties and the somewhat easier preparation.
The coffee gift box, in addition to the gift box tea allows the selection of special bean blends, which may also be a little more expensive. BUNTBOX offers you the possibility to choose from different shapes, sizes and colours, so that you can create your very own personal coffee box or gift box.