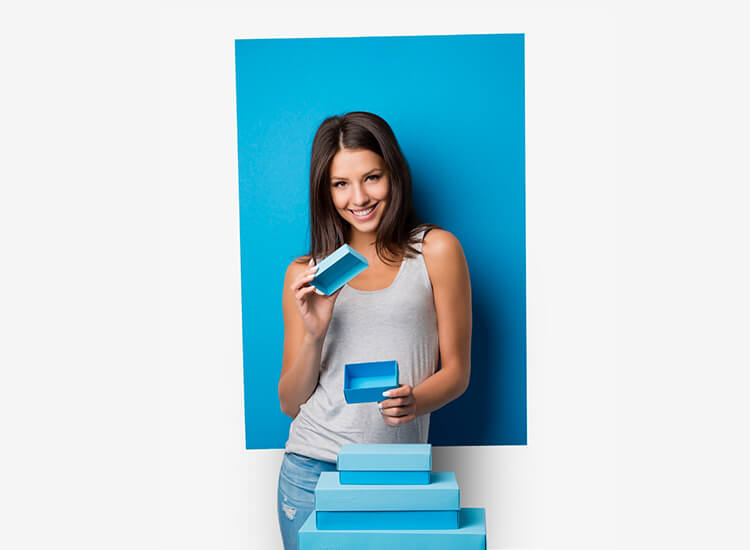 Customization of gift boxes
Our Buntbox team is also more than happy to assist you with any kind of personalizations. We will inform you about all the customization options available and offer you many ideas for your next gift box. Take a look at our range online and get inspired. Do you have any questions? Feel free to contact us, we will be happy to help you out.
What gifts make a party unique?
Every party is in a class of its own because each guest is individual. If the gifts and party items are also well received, then no wishes are left unfulfilled. Which gifts could you actually present in our party gift boxes? We have a few suggestions that will go down well at any party:
+ Cakes and cupcakes
+ Streamers
+ Confetti cannons
+ Table bombs
+ Garlands
+ Necklaces
As you can see, the list of gifts could go on and on. Maybe you're not just looking for a visual treat, but also a culinary one? Then choose our cake box.
Multiple messages with one gift
If you have baked a cake for a party, you can write a personal message on the cake. You can also place this message on the cake box. A delicious cake completes every party, but how can it be transported decoratively? A classic cake box is rather boring and would not do justice to a cool party. Our cake box, on the other hand, is completely different. You decide on the design yourself, so you can perfectly support the theme of the party. By the way, you don't have to bake the cake yourself. Cakes made of gumdrops also make for a great party atmosphere.
What should your cake box look like?
Once you have decided on our cake box, you can start designing it straight away. This way you can give your cake box a personalised colour. Of course, the cake box also comes with a lid. This protects the cake optimally. The lid can be chosen in a completely different colour, which allows you to play with the design even more. For example, it is possible to order the cake boxes for sporting events in the respective colours of the club. But you have even more options when it comes to the boxes for the party items. Once the size, shape and colour have been determined, the actual design begins. Upload a photo from your stock and immortalise it on the cardboard. This way, cakes and party items are presented in an even better light. The virtual configurator shows you immediately what the final result will look like. You can design until you are satisfied with the result in all respects.
The environmentally friendly packaging for every party
Environmental protection is our top priority. Of course, this also applies to the packaging of your party items. All our boxes are made from 100% recycled cardboard. The production takes place in Germany. This means you have short delivery routes and times. Even parties planned at short notice can be given the finishing touch with our cardboard boxes. Whether it's a cake box or a cardboard box for decorative party items: Buntbox ensures that there is never a dull moment at the party. Add a personal touch to any celebration with the Party Gift Box