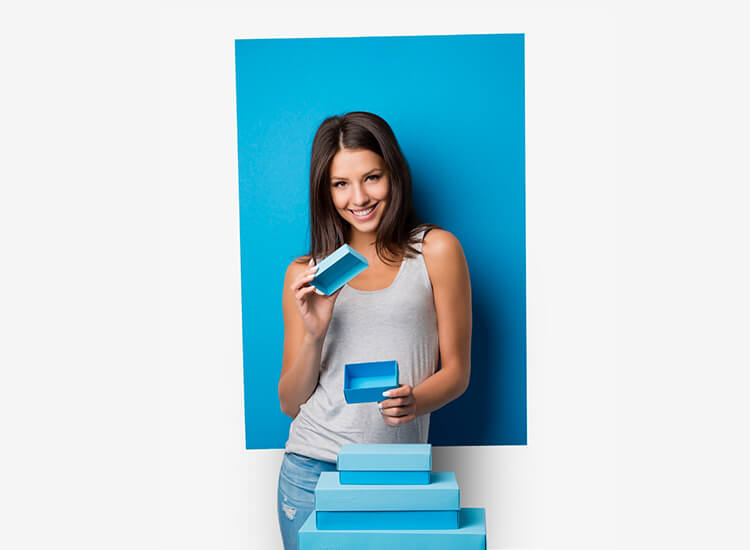 Customization of gift boxes
Our Buntbox team is also more than happy to assist you with any kind of personalizations. We will inform you about all the customization options available and offer you many ideas for your next gift box. Take a look at our range online and get inspired. Do you have any questions? Feel free to contact us, we will be happy to help you out.
A snapshot is worth a thousand words
Photos simply belongö photos are part of every family and these priceless memories should be carefully preserved. What about the photo gift box from Buntbox? The photos in the box are easy to organise because each photo box can be customised by you. If you want to store printed photos, then the photo storage box is the right choice for you.

Wonderful gift for real friends
Gifts with a personal touch go down well and what could be better than sharing pictures? The occasions on which you could present the box for photos are many and varied. For example

+ weddings
+ birthdays
+ christenings
+ births
+ communions
+ confirmations
+ anniversaries.

If you want to give photos as a gift, then you should also package them attractively. The photo box takes care of this task. It looks great thanks to the design options and is also very robust. The photo gift box also has an attractive price. You decide on the design yourself and you will be thrilled by the many possibilities.
What do you want your photo storage box to look like?
If you have decided to present your pictures in a self-service photo gift box, then we have many models for you in our repertoire. First of all, you have to choose the colour of your box. You are spoilt for choice when it comes to colour, but all our colours have one thing in common: they look great. Maybe you associate a certain colour with the person you are giving the gift to. Then the picture box should also shine in this colour. However, you can further refine the picture box by adding an individual print. The virtual configurator helps you to design the picture box. Perhaps there is a phrase that underlines your friendship. Or should it be a particular motif that suits you perfectly? Then put it on the box.
This is how nice it can be to keep pictures
It's not only others who can enjoy the photos in the box. If you want to store your own pictures, then you should also choose the picture box from Buntbox. We offer you the highest quality at an attractive price. Storing pictures is now made easy and you have the design of the photo storage box in your own hands.
You want to store printed photos? Then make it sustainable!
The self-service photo gift box from Buntbox is made of 100% recycled cardboard. This means that environmental protection is a top priority. In addition, our photo boxes are made in Germany. You want quality "Made in Germany" at an attractive price? Then you have come to the right place. We also stand for short delivery routes and therefore fast delivery times. With the photo gift box, you can even put your stamp on short-notice events. The box for pictures can be used in many ways. It becomes a decorative gift box and can help you store all your important pictures. As a self-service photo gift box, it will be remembered and you can choose exactly which pictures to put inside. And it's easy to order online.