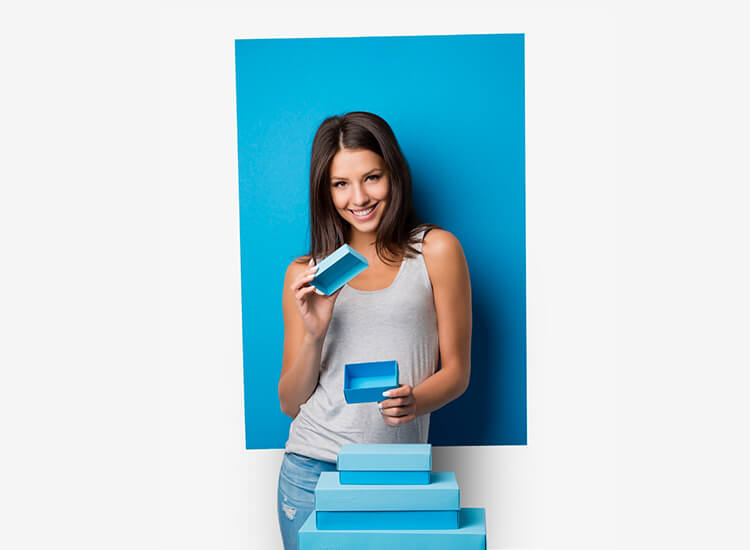 Customization of gift boxes
Our Buntbox team is also more than happy to assist you with any kind of personalizations. We will inform you about all the customization options available and offer you many ideas for your next gift box. Take a look at our range online and get inspired. Do you have any questions? Feel free to contact us, we will be happy to help you out.
The ideal way to store high-quality shoes
The Schuh Karton from Buntbox is not only used as gift packaging. It can also be used as a shoe storage box. The shoes can be stacked easily and the storage box for shoes looks really great with its individual design. Why not order the shoe box in different colours and create a colourful home? Shoes are needed for every occasion and that's why our box is so popular. You need shoes for sports or the next gala evening? Then simply store the shoes in our shoe box. If you want to give shoes as a gift, then the shoe box will also be your first choice. You don't even need any other gift packaging because the many design options mean that the shoe box from Buntbox will be completely sufficient.
Which design do you choose?
If you are giving away shoes for commercial reasons, then the packaging from Buntbox is also a good choice. It's a great way to stand out from the competition, because no one else has your fancy box for shoes. You can immortalise your company's logo or a certain slogan on the box. Even photos or other motifs look good on the shoe box. The shoe box from Buntbox can be ordered in many different colours. For this reason, it is also often used as a shoe storage box. The print is of course of high quality and the shoe box is extremely resistant. You will enjoy the shoe box for a long time and if you want to give the shoes as a gift, the individual look of the shoe box will definitely cause a sensation. It shows that you have put some thought into the packaging and this uniqueness is in demand.
Sustainable production "Made in Germany"
You want a product made in Germany? Then you've come to the right place. Our shoe storage box is made in Germany and the material is particularly environmentally friendly. It is made of recycled cardboard. Environmentally friendly materials can also be robust and we prove this with our boxes. No matter if you want to give shoes for sports, the evening dinner or just cool slippers. Our shoe storage box should be your first choice.
Save a lot of space with the shoe storage box
Shoes without a matching box quickly look untidy. If you choose our shoe storage box, then a tidy home is important to you. The shoe boxes look great thanks to the bright colours and each one has its own unique design. Try them out and give your shoes a new home!