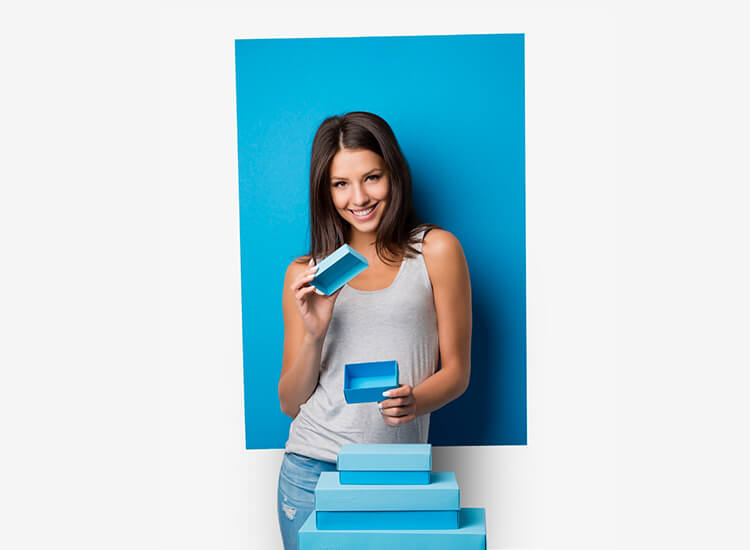 Customization of gift boxes
Our Buntbox team is also more than happy to assist you with any kind of personalizations. We will inform you about all the customization options available and offer you many ideas for your next gift box. Take a look at our range online and get inspired. Do you have any questions? Feel free to contact us, we will be happy to help you out.
Craft and give joy with Advent calendar boxes
The assumption that there should be no gifts before Christmas is long outdated. If you want to give your dear friends or family members a special treat, Advent boxes are just the thing. If you too have acquired a taste for advent calendar boxes and would like to buy them, all you have to do is turn to Buntbox. The Advent boxes for filling are suitable for young and old and set no limits to your creativity in designing and filling. Another advantage is that Advent calendar boxes for your gift are available in different sizes, colours and shapes. Depending on your taste, you can choose between large and small boxes for your advent calendar.
Advent calendar boxes for children and young people
When you look around the wide range of Buntbox, you will quickly notice that the boxes are available in every conceivable shape and variant. The boxes are suitable for special occasions such as a wedding or a birthday as well as for a birth to welcome a new citizen to the world. If you want to create Advent calendars with the boxes, you are also on the right track. Advent calendars for children and young people can be kept in the typical Christmas colours such as red, gold or green or in a personal colour of your choice. If you need to buy Advent calendar boxes that are intended for smaller children, slightly softer colours are also particularly suitable. If the child or teenager prefers a particular colour, you can easily choose from a wide range of colours. Before you start making an Advent calendar with the boxes, you should think carefully about what you want to fill the calendar with. If you prefer a classic content such as small pictures or sweets, Advent boxes that are smaller in size will do. Small Bücherries or gifts such as pens or card games will find plenty of space in medium-sized Advent boxes. For larger gifts such as a cuddly toy, a nice jumper or a football, you should go for larger boxes to be on the safe side. Of course, it is no problem to order Advent calendar boxes in different sizes. The contents of your shopping basket and which Advent boxes you would like to fill are entirely up to you.
Advent calendar boxes for adults
Nowadays, Advent calendars are not only popular with children and young people, but also with adults. If the boxes are to be used to create an Advent calendar for a loved one in adulthood, the typical Christmas colours can be used, just as with the calendars for children. The internet now offers lots of ideas for filling the boxes of the Advent calendar. You can put lingerie or teas in small boxes for the Advent calendar. If you want to give a beer lover a gift, large boxes are recommended. A little tip: It is especially fun if you invite someone else to make Advent calendar boxes. Creating and filling the boxes together is twice as much fun and can be repeated every year. And the boxes can also be made by someone else.