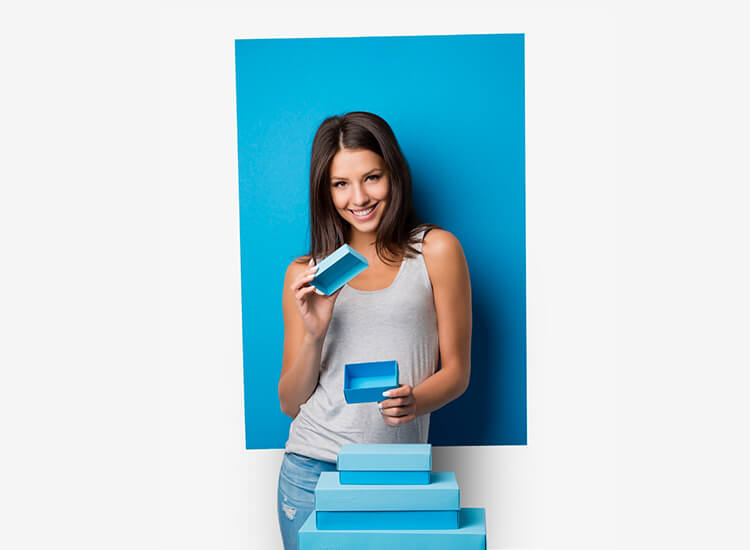 Customization of gift boxes
Our Buntbox team is also more than happy to assist you with any kind of personalizations. We will inform you about all the customization options available and offer you many ideas for your next gift box. Take a look at our range online and get inspired. Do you have any questions? Feel free to contact us, we will be happy to help you out.
How about a personalised birth box?
We specialise in offering you unusual packaging for the ultimate gift. What do we mean by that? It's simple: you can customise our birth gift boxes to your liking. After all, anyone can do simple and boring! It doesn't matter whether the parents-to-be are expecting a boy or a girl. Even the "nervous" father is taken into consideration. How about a daddy box for the birth, for example? You could prepare him gently for his new role or even give him a few useful accessories. With the personalised daddy box for birth you can show humour or sensitivity (whichever suits you better).
Who says that a gift for birth has to be boring?
A box full of quality
BUNTBOX not only stands for creative ideas when it comes to personalised boxes for birth, but also for quality. You can see this not only in the bright colours of our prints - you can even feel it. Because our boxes are made of high-quality cardboard, which is produced in a 100% environmentally friendly way. Despite or because of our quality, even the price will surprise you.
All boxes are manufactured in Germany under strict controls. So you can be sure that your birth box is of the highest quality.
What else can we surprise you with?
Let us inspire you or impress us with your own creativity. We want to convince you with our boxes in every respect. It should be "love at first sight" for you as the presenter, but of course also for the parents. If you have any questions or special requests, we are always ready to listen and together we are sure to find the right box for your project!
To ensure that there are no limits to your creativity, we naturally offer our birth gift box in different sizes. So there is not only room for dummies or other small items. As you can see, there are almost no limits to your imagination.
The birth gift box can also be selected in various colour combinations and sizes. Would you prefer personalised gifts for a boy or a girl? That's no problem either! Just tell us what kind of welcome you'd like to give the baby and we'll print it on the birth gift box.
What are you waiting for?
You already know that a birth gift box should be ready in 9 months at the latest?! Don't worry - we won't let you down! Fortunately, our delivery times for the birth box are not that long. Nevertheless, it would be advisable to think about which gifts you would like in good time. Afterwards, we can help you find the right size for the birth box and customise it if you wish.
Our boxes are always the right choice. We are looking forward to your ideas!