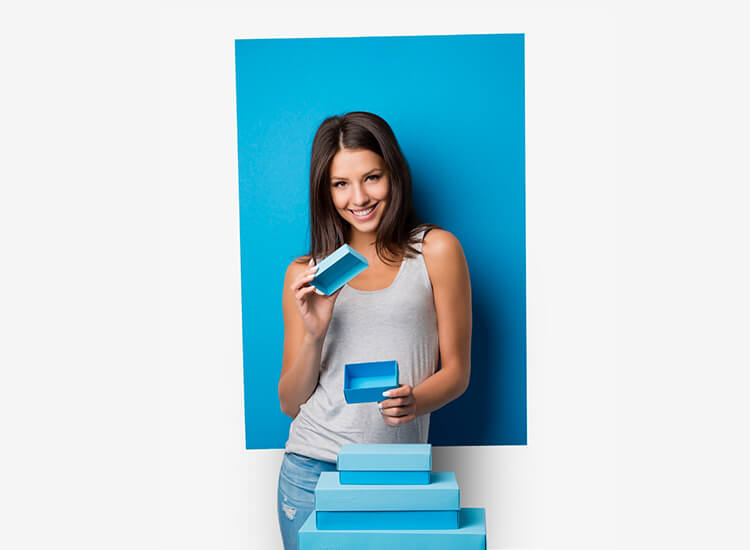 Customization of gift boxes
Our Buntbox team is also more than happy to assist you with any kind of personalizations. We will inform you about all the customization options available and offer you many ideas for your next gift box. Take a look at our range online and get inspired. Do you have any questions? Feel free to contact us, we will be happy to help you out.
Guest gift packaging: Packaged with love and care
Even the most perfect gift is nothing special without the right presentation. Our colourful gift wrap can spice up any gift and is available in so many sizes that no gift is too big or too small. Lined with coloured or printed tissue paper and topped with a beautiful satin ribbon bow, you will give your friends and family a wonderful gift that they will remember for years to come. Even a great piece of jewellery needs beautiful packaging to show it off to its best advantage. Take a look at our selection of products in the guest gift packaging section. Our packaging comes in many sizes to suit any jewellery item. Boxes decorated with Bänder are especially nice for jewellery. Alternatively, you can keep it classic and simple.
Funny gift boxes for chocolates as host gift packaging
Chocolates are almost always a great gift idea, but the boxes in which the sweets are delivered are usually labelled with barcodes and other unsightly information. We offer boxes in different colours and designs that make the recipient feel special. Of course, chocolates are always a nice gesture, but to really make an impression, make sure the packaging is right too. Our boxes are reusable and perfect for storing jewellery, beads or craft materials. Our range of food and wine containers are ideal for making sure your food and drink stays protected in transit. Pizza boxes, cake boxes and candy boxes are great for storing freshly prepared food.
Long-lasting packaging for hostess gifts
If you're looking for a product that will make your hostess or party favours a real hit, order one of our fun gift boxes decorated to match the occasion. Made from a variety of materials, the boxes come in many sizes and colours, so you'll always find the perfect packaging for hostess gifts. Our boxes are made from high quality materials and we offer designs that can't be found anywhere else. Thanks to our large stock, we can often deliver your order the same day. Browse our online selection in the Gift Wrapping section to get an overview of your options, and don't hesitate to email us if you have any questions before placing your order.
Guest gift packaging: endless options
Thanks to our wide range of colours and shapes, we're sure to have the right gift packaging for you. Whether you're looking for a cardboard box, a plastic box or a metal box, you'll find it here. Are you looking for a red, white, brown or black box? As always, we have the right one for you.