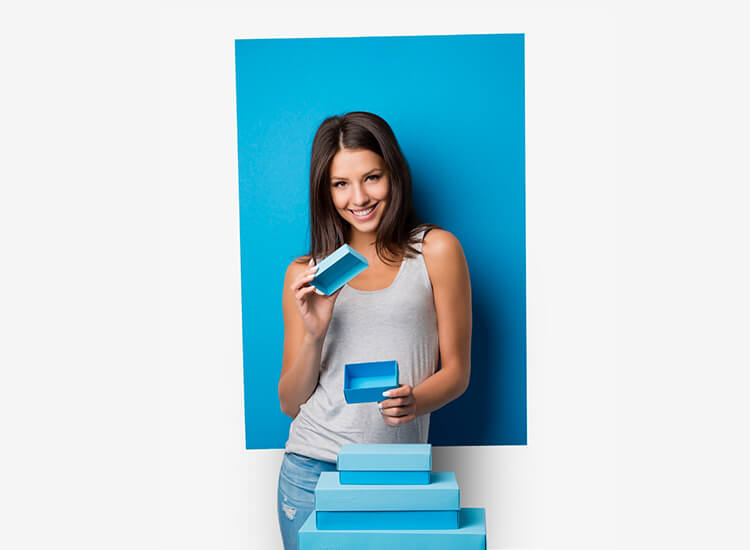 Customization of gift boxes
Our Buntbox team is also more than happy to assist you with any kind of personalizations. We will inform you about all the customization options available and offer you many ideas for your next gift box. Take a look at our range online and get inspired. Do you have any questions? Feel free to contact us, we will be happy to help you out.
A large selection of christening and birth gift boxes
A sturdy and inexpensive cardboard christening gift box is available from Buntbox with many beautiful motifs to match the event. For example, you can choose a box with a beautiful printed christening wreath or a golden Ichthys fish. If you want to present your gift right away for the birth, the box with the inscription "Little Princess" or a small cardboard box with baby things attached with clips is suitable. You can get the christening box completely in white, in the colour of your choice with a print or only with a coloured body and lid in white. You can choose from rectangular boxes for christenings, square boxes for christenings and cushion-shaped gift boxes for christenings.
Personalised gift box
If you want your box to be unique for a christening, then have your christening box individually personalised at Buntbox. We print it with your loving wishes, the name, weight and size of the child, a personal picture or whatever you want. The christening box is also perfect to give home as a gift after the christening. Giving the box as a gift after the christening is even more beautiful than a personalised gift box, for example with a loving thank you message printed on it. Small, white, square boxes filled with sweets and given to the christening guests are also popular.
Various christening boxes
At Buntbox you can choose between many different sizes, colours and shapes of christening boxes. This way you can create many different gifts from small to large and wonderful hostess gifts with the christening box. Jewellery such as a bracelet with the baby's name fits perfectly into a stylish white cushion box. Ideally, the jewellery can be stored in this box even after it has been unwrapped. Buntbox also offers elegant packaging for your money gifts. Whether it's cash, a savings book or a voucher, everything gets a beautiful wrapping with the individual gift box.
Baptism gift box with quality and sustainability
The gift box for baptism or birth is made of high-quality, sturdy cardboard, which is environmentally friendly and one hundred percent made from recycled paper – and made in Germany. With the baptism or birth box, you also save the environment a lot of packaging material. The christening or birth gift box can be reused sustainably, for example to store a variety of small items. So your christening gift box will be remembered for a long time to come.
Choose your christening gift box now
&Uml;convince yourself of the variety of christening gift boxes in our Buntbox online shop. Choose your christening gift box or christening gift box for the guests at home. If you want to give something really special, then opt for a personalised gift box. Buntbox has the right christening box for everything and everyone. Take a look at our online shop and choose your baptism box.