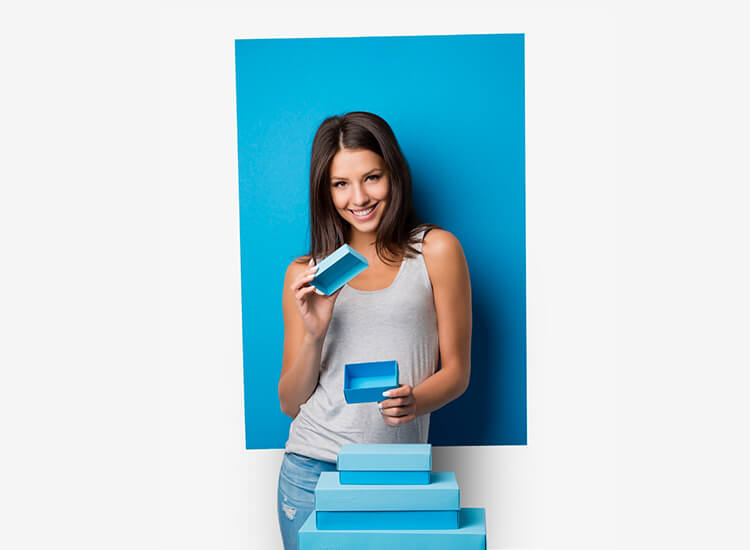 Customization of gift boxes
Our Buntbox team is also more than happy to assist you with any kind of personalizations. We will inform you about all the customization options available and offer you many ideas for your next gift box. Take a look at our range online and get inspired. Do you have any questions? Feel free to contact us, we will be happy to help you out.
A gift box with a great Christmas motif
At buntbox we stand for high quality gift boxes – in our categories you will find Christmas boxes and cardboard boxes for gifts in a wide variety of sizes, which stand out from the traditional bottle boxes simply because of their high quality. With us you get your sustainable gift packaging "Made in Germany". The customisable gift packaging is made exclusively from 100% recycled paper.
When designing the packaging for your Christmas gifts, you can get really creative with us. In addition to your choice of cardboard and lid in 24 different colours, which can be put together in up to 500 different combinations – even cardboard and lid in different colours, you can also get great motifs with a Christmas theme. The choice is huge – you will not only convince with your gift. Whether it's a gift bag or a box, the colours are bold and guaranteed to catch the eye.
Gift bags and boxes with added value
Our gift bags and boxes are not only suitable for creative and individual gift wrapping. You have so many more possibilities:
Small boxes for Advent calendars: You design the Advent calendar for your partner and/or your children yourself and therefore always need packaging in different sizes? Our products are perfect for that.

Cookie Box Christmas: Home-baked goods taste even better when they are packed in a great gift box or one of our boxes.

Boxes for Christmas baubles: After Christmas, the Christmas baubles need to be packed well. How about putting them in one of our boxes? With our Christmas motifs, you'll still know what was in the box next year.

Toys and decorations: Children not only love the contents of their gift boxes, but they also love to have great packaging for their many small and large treasures. The size doesn't matter so much; the important thing is that it's really fun to assemble and sort.
Individual orders possible
At Buntbox, we know that you don't need a whole stock of gift boxes. That's why we also offer small quantities at a fair price. And your individuality is also very important to us. In addition to our great Christmas motifs, you also have the option of having your boxes and gifts individually designed. For this purpose, we offer you the possibility to have an imprint with a special message or your logo applied – your cardboard box and gift bags are our mission. We make them come true.
If you have any questions about our gift boxes for Christmas and the Christmas season, please feel free to contact us. We look forward to hearing from you and your Christmas ideas.