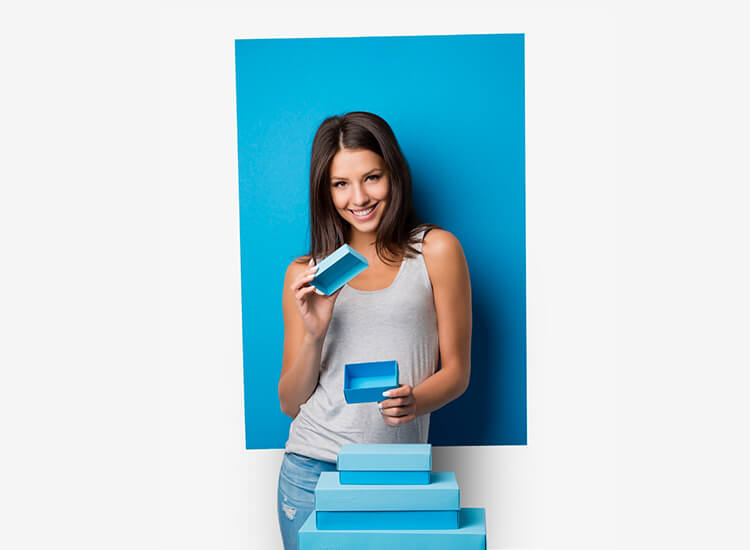 Customization of gift boxes
Our Buntbox team is also more than happy to assist you with any kind of personalizations. We will inform you about all the customization options available and offer you many ideas for your next gift box. Take a look at our range online and get inspired. Do you have any questions? Feel free to contact us, we will be happy to help you out.
Confirmation gift box: the eye-catcher on the table
Whatever you want to give for a confirmation or communion - your gift or cash present will go down particularly well if you wrap it creatively. Luckily there is Buntbox - we have the right gift box for everything, printed or unprinted and in many beautiful colours. With the right gift box for confirmation or communion, your gift will be an eye-catcher on the table. Simply choose the right box for the confirmation, put money or a gift in the box, personalise it if you wish - and the perfect gift is ready!
Giving money in a confirmation gift box
Money is a classic gift for confirmation or communion. Even if the idea doesn't seem particularly original at first glance, all young people have wishes or are saving up for a special goal such as a driving licence, a moped or an apprenticeship. So you can't go wrong with a monetary gift. In our confirmation gift box you can wrap the money in an original way. A gift box with style makes every gift of money something very special! The best thing about it: the confirmation gift box is also guaranteed to be available in your favourite colour.
Giving jewellery in a confirmation gift box
Jewellery is also a popular gift for confirmation or communion. A popular classic is a necklace made of gold or silver with a cross, a tree of life or a symbolic fish as a pendant. Your jewellery will look particularly good in the matching confirmation box. Especially nice: Personalise the box with a nice text or picture!
Gift vouchers in a confirmation gift box
Should you give a gift voucher instead of money? If you know the teenager's preferences, vouchers are a good idea. You can package them creatively in a matching box. Or how about a certificate for a sponsorship, a square metre of rainforest or a star? Anything you can think of, you can put in our confirmation gift box. Especially original: the voucher and the colour of the gift box match!
Giving a book in the confirmation gift box
A book is always a nice gift! Whether you want to give a classic Bible or an exciting adventure novel is up to you - in a beautiful confirmation gift box, your book gift will definitely be remembered.
The confirmation gift box and the confirmation money box are available in many great colours. So why not wrap the gift in the confirmand's favourite colour?
Personalise the Confirmation Gift Box and Confirmation Money Box
Do you want to personalise the Confirmation Gift Box or the Money Box? There are many ways to personalise the confirmation gift box. There are no limits to your creativity! Whether it's wax crayons, oil and acrylic, chalk, glue, stickers, coloured pencils or felt-tip pens - the gift box can hold it all!
By the way: You can also order the Confirmation gift box or the Confirmation money gift box printed and personalise it directly on our website. We hope you and the recipient will enjoy unwrapping the confirmation money box or the confirmation gift box!
With the confirmation gift box or the confirmation gift box, you can also personalise them directly on our website.