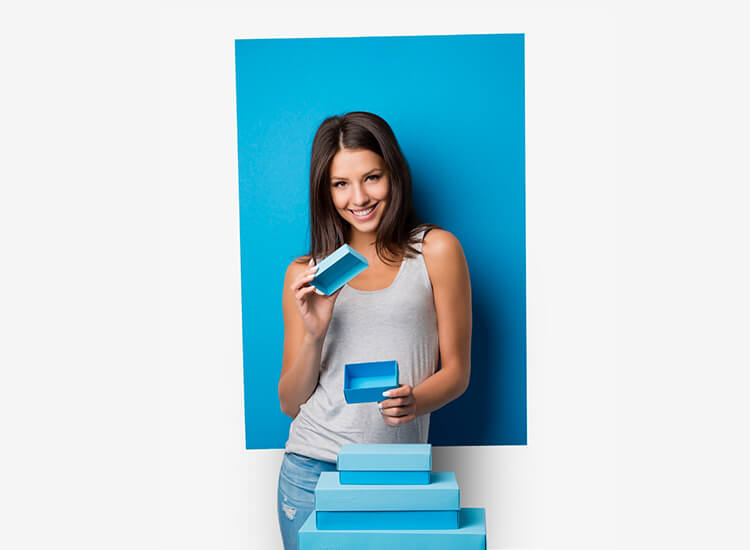 Customization of gift boxes
Our Buntbox team is also more than happy to assist you with any kind of personalizations. We will inform you about all the customization options available and offer you many ideas for your next gift box. Take a look at our range online and get inspired. Do you have any questions? Feel free to contact us, we will be happy to help you out.
Crafting an Easter gift bag or Easter gift box
Crafting an Easter gift bag or Easter gift box is especially fun for children. They can be used to collect eggs and chocolate that the Easter bunny has cleverly hidden.
For adults, on the other hand, it is often better to get a ready-made box. This requires less effort, but can still be customised. It is therefore more than just a box for Easter, but a beautiful gift in itself. It also has other advantages to offer.
Easter bunny or Easter greetings? Individual design of the Easter gift box
Thanks to our products, it is possible to design the Easter box yourself and choose between decorative motifs or inscriptions. This makes the box personal and can be selected to suit the recipient and their own preferences.
However, you can also find ready-made products as Easter boxes, which can be laid out on the recipient using tags or small boxes, for example. In addition to the look, the sturdy material of the Easter box is also convincing. This makes it suitable for more than just packaging for presents and sweets. Nevertheless, the gifts are stored safely and securely in it. With Easter grass or small decorations, colourful eggs and flowers, the contents of the Easter gift box can be made very attractive.
An Easter box: many advantages with compact dimensions
A simple box for Easter offers the giver and the recipient numerous possibilities. Packaging small gifts of various shapes is very easy and takes very little time. The material is environmentally friendly and no additional packaging is required. This saves time, effort and money.
In addition, the Easter box can be wonderfully reused. Whether it is used again as gift packaging or for storing Easter decorations, the high quality and the durable material make it last much longer than wrapping paper or a gift bag. This makes it possible, despite decorative presentation and numerous possibilities, to protect the environment at the same time. This is an advantage that can continue to convince long after Easter.
Gift box for Easter in many sizes
Whether you want to put decorations, gifts or other things in it, the boxes are available in several different sizes, so you can adapt them to your presents, stack them or even put them inside each other to give a gift inside a gift.
The smaller versions are also suitable for hiding, so you can create excitement with the boxes and they are suitable for all ages. Bring joy to young and old alike and bring the Easter bunny fun to life.
In addition to the Easter collection of gift boxes, you have the option of designing the packaging yourself with us. Let your imagination run wild and design an individual and high-quality box that is precisely adapted to the occasion and the personal preferences of the recipient.