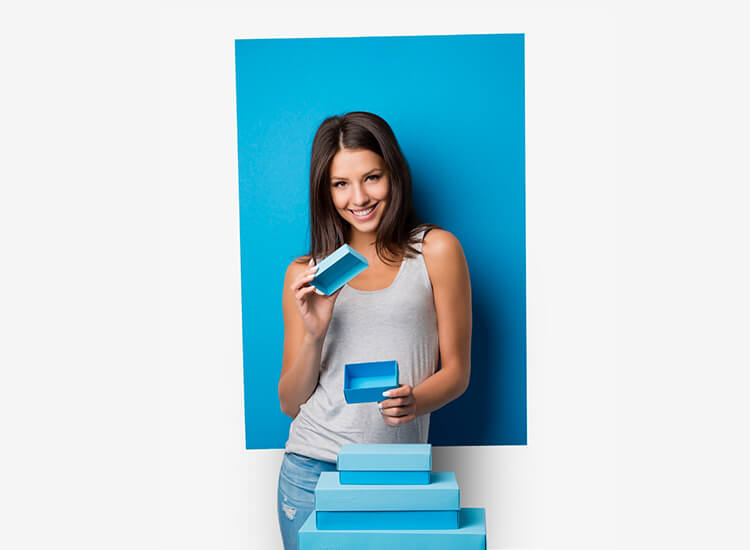 Customization of gift boxes
Our Buntbox team is also more than happy to assist you with any kind of personalizations. We will inform you about all the customization options available and offer you many ideas for your next gift box. Take a look at our range online and get inspired. Do you have any questions? Feel free to contact us, we will be happy to help you out.
More than just an engagement ring box
Every engagement gift box comes from the heart. That's what we stand for. That means: love is in the box. Finally, we design the box exclusively for you with great passion, even for the small details. So it's not just the ring inside that is a real highlight. Even your box will make the eyes of your loved ones sparkle.
When you choose BUNTBOX, you present every gift in style. Our range has the right box for every taste. Can it be playful or elegant? Elegant and timeless? Romantic like a wedding? Choose your favourite engagement ring packaging from our selection. Your box will make your hearts beat faster.
This is not only due to the external values of your engagement ring packaging. The inside is also enchanting with its beautiful details. It starts with the combination of tasteful colours and ends with the refinement of small patterns. In combination with a careful finish, you have an engagement ring box in your hands that is in no way inferior to the gift it holds.
Are you looking for a unique engagement ring box for your sweetheart? At BUNTBOX you will find what you are looking for. Each of our pieces is made with great attention to detail. Let us speak for you – for the enthusiastic yes of your sweetheart.
Which gift box for your engagement?
It is not easy to find the right partner. But when you know you have her by your side, you are happy. And rightly so. After all, love is a timeless gift. The engagement can be celebrated appropriately. Every detail counts. This also applies to an engagement ring box from our range. We make each of them with special care. This way, your engagement ring box will be a surprise that is well worth seeing.
Decide on the design that will not only put a smile on your face. It is based entirely on your ideas and wishes. The most beautiful gifts can be presented in such a tasteful way. In a ring box engagement ring you present the jewel with an eye for the special. The round has to go into the square - and the engagement ring on your finger.
BUNTBOX dares you to say yes!
You buy an engagement ring box once in your life. That's why you shouldn't leave anything to chance when it comes to this item. If you choose BUNTBOX, you will have a lovingly designed jewel in your hands. By this we mean your engagement ring, but also our box for the engagement ring. It is in no way inferior to the precious jewellery:
Selected materials blend with lovingly placed details in each of our engagement ring boxes. This makes them a visual highlight. At the same time, your hearts will beat faster. The contents fit perfectly into the gift box. When you hand it over, time seems to stand still for a moment. Will she say yes? Dare! We at BUNTBOX are by your side.
Love is in the box – our BUNTBOX engagement ring box
Love is a heavenly feeling. You are floating on clouds and want to embrace the whole world. There's no question about it: when you find your match, your happiness is perfect. Everyone should see that. Even with the matching ring on your finger. Your wedding? A great idea! We at BUNTBOX wish you a safe journey into the harbour of marriage. But wait; something important is still missing. The ring. And the matching box for the engagement ring. Good thing we thought of that.